Thousands of loyalists of the ruling party, APC have migrated to the opposition party, PDP, in possible search of greener pastures.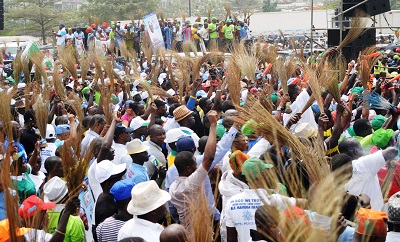 No fewer than 5,557 members of All Progressives Congress, APC, have defected to Peoples Democratic Party, PDP, in Kaduna South senatorial district of the state.
They were led by Chairman, House of Representatives Committee on Interior, Jagaba Adams Jagaba, saying their decision was informed by the dwindling fortune of APC.
Jagaba told journalists that their decision to leave the APC was informed by the fact that they were not treated well by the party in the state.
According to him, the APC had accused him of anti-party activities and set up a committee to investigate the matter, saying: "The ward executive sat with me and could not find me guilty of the accusations. But the state chapter of the party took the executive to Kaduna to sign that I have been suspended from the party indefinitely.
"Now, in a year of election, you suspend an active politician like me indefinitely? To me, I saw it as an infringement on my fundamental human right. And I decided to just let go. I left them for good"