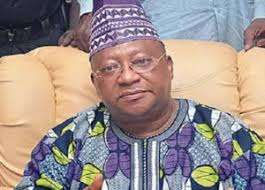 The Government of Osun on Sunday remembered the late Sen. Isiaka Adeleke who died on April 23, 2017.

Adeleke was the first civilian governor of the state and until his death represented Osun West Senatorial District in the 8th National Assembly.

Mr Adelani Baderinwa, the state Commissioner for Information and Strategy, in a statement, described the deceased as an illustrious son of the state.

He said the death of the former governor and Senator was a great loss, especially to the masses.

"The Government and the people of Osun today remember one of its illustrious sons and indeed the first executive governor of the state, Sen. Isiaka Adeleke, who died on 23rd of April, 2017.

"As a people and government, the loss of Adeleke was sour grape in the mouth as it denied all of the good naturedness well known about him by all and sundry.

"A flamboyant politician with great kindness for the needy, late Adeleke did his best to provide for the masses that he came across during his life time.

"A grassroots politician of note in his life time, the first civilian governor of the state was in constant touch with his people till he breathed his last.

"No wonder his demise brought a deep sense of loss to all, even when it is clear that as mortals, we all live at the mercy of God.

"While praying for Aljanat fridous for him, the government again urged the family, friends and associates of Sen. Isiaka Adeleke, the Timi of Edeland, Oba Munirudeen Lawal and other well-wishers across the world to find solace in the good life and indelible footprints the deceased left behind."