A senior female immigration officer has landed in police net for allegedly engaging in fraudulent activities.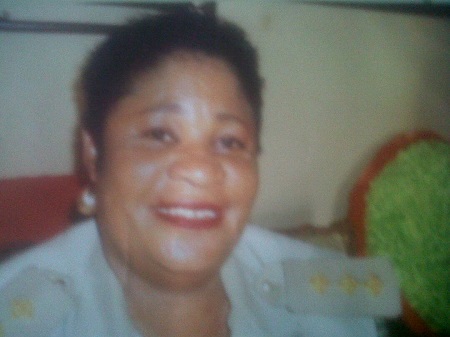 Mrs. Ehumibe Moji Dada Omoh
Police operatives from the Intelligence Response Team, IRT, Ikeja, Lagos have busted the home of a senior female immigration officer, recovered hundreds of international passports and rescued young victims she reportedly kept in servitude for her sexual desires, according to a report by PM Express.
It was gathered that the incident happened at 15 Taiwo Street in Abaranje, Ikotun area of Lagos where she resided.
The immigration officer identified as the Deputy Superintendent of Immigration, DSI, Mrs. Ehumibe Moji Dada Omoh claimed to be attached to the Seme border office in Badagry area of Lagos.
Mrs. Omoh an indigene of Auchi in Edo State was alleged to have defrauded many intending travellers to the tune of millions of Naira and frustrated many as a result of fake documents she procured for them. It was learnt that some of the victims were said to be languishing in various prisons across the world while some were missing and may have died.
Trouble started after Mrs. Omoh allegedly defrauded one Captain Young Suleman Omokhuale to the tune of N2.5m in 2017 under the false pretence of securing travelling papers for Mr. Omokhuale's two sons to travel abroad. He also was said to have defrauded one Mr. Paulinus of about N1.4m, after being introduced to her by the Managing Director of Don CY Hotel and Suites and many others.
However, Mr. Paulinus ended up in prison as a result of the fake documents she procured for him after obtaining the money from him.
On Mr. Omokhuale's son, Evans, she reportedly seized the 29-year old Evans inside her house at Abaranje for five months without allowing him access to anyone including his parents. She reportedly informed Mr. Omokhuale that his son had travelled abroad since 2017 and arranged a fake telephone conversation between Evans and his father.
However, the whole scam came to the open when Evans managed to escape from her, regained his senses and informed his father about what happened. The father then wrote a petition to the police and Mrs. Omoh was eventually arrested and detained at the Police Command with four other suspects in connection with the alleged fraud.
Residents confirmed the incident. The residents also revealed that she had been frustrating and keeping some young men who wanted to travel abroad through her in her house and usually slept with them, which was yet to be confirmed.
Mrs. Omoh was still detained there with other suspects believed to be rescued victims and one of her children.Police sources expressed shock over such crime and said she was cooperating with the police in the investigations. The police are still trying to know how she managed to get those international passports, who their owners were and what happened to the owners.
When confronted about the incident, police said it was too early to speak with her because the police were still doing investigations on the matter which they described as sensitive.