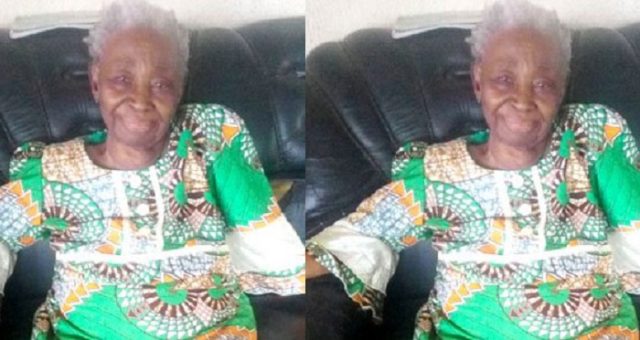 A beautiful 94-year-old Nigerian woman has shared her motivational story of how against all odds, she survived being a sickle cell for all these years.

Ninety-four years and still alive and kicking, Alhaja Ashiata Abike Onikoyi nee Laguda's story is one that defies logic. Born with the dreaded though relatively unknown Sickle Cell anaemia at the time, no-one expected her to survive childhood.

But Laguda, who could well qualify as the oldest Sickle Cell survivor in Nigeria, not only survived, she weathered the perennial illness days and became as strong as a fiddle. She regaled Medinat Kanabe with her story.

There is a notion in Nigeria that anybody living with the sickle cell anaemia, more popularly referred to as SS, hardly lives beyond 40 years. As a matter of fact, when you come across anyone living with the condition, the next thing that comes to the mind is death, premature death. As a result, there is a subtle discrimination against them; they are treated differently from other people; not given jobs and worst of all, no one wants to marry them.

It is for this reasons that the story of Alhaja Ashiata Abike Onikoyi nee Laguda, who will be 94 years old this October stands out like a lone star on a rainy night. Born to the family of Mr. and Mrs. Onikoyi of Lagos in1924, Alhaja Laguda's parents had first lost a child, most probably, to Sickle Cell Anaemia; but because the disease was then unknown, no one paid attention. In any case, infant mortality rate at the time was still very high and hardly seen as unusual.

As fate would have it, her father died before her mum could have other children, so she became an only child until her mother remarried.

Amazing alertness

Looking nearly two decades younger, Alhaja Laguda welcomed this reporter with the cheer and alertness of a youth. Her smiles and amazingly strong voice immediately dissipated the fear this reporter had about coping with interviewing a nonagenarian, who may be nursing health issues.

Without any prodding, she showed this reporter her photos, several of them taken during her visits to the Muslim holy land, Mecca. She has been to Mecca 13 times, she announced with visible contentment.

After making sure her reporter visitor was comfortable, Alhaja Laguda continued: "My dad died too early, so my mother remarried another person and had other children for him."

She recalled that being sickly was a terrible thing at the time she was growing up because nobody knew about sickle cell anemia. She was always sick to the point that in a whole year, she may attend school only about three months of the entire annual school calendar. "I would spend the other months sick and at home."

In a bid to find cure by all means for her condition, which the people had ascribed to the rascally supernatural reincarnation of spirit children or "Abiku", she was given all sorts of concoction.

"I was taken to the hospital; then they still brought all sorts of concoction from the Igbo tribe, from Yoruba people and from Hausa part of the country, because it was a very serious sickness. I just took everything that they gave me. They would cut me on every part of my body but I gave myself to them because I wanted to live."

When the illness attacked her hands, she recalled that she would not be able to use them for anything - not even to eat. When it attacked her legs, she would not be able to walk, and whenever she was at home, she must be by the fire-side, to keep her warm.
"They called me abiku and several other names, but thank God things have changed today. Also, the government is doing everything within its power to enlighten the people about the disease."

Left to her father, Alhaja Laguda recalled that she would not have had any education, as he pampered her, much like a jewel he was going to lose at anytime, and kept her at home rather than let her go to school.

"If he didn't die, I probably wouldn't have been educated because he said I should be left at home, so that they can watch over me every time.

"He insisted that because of my nature, no teacher should beat me. He would say I should be left at home even when I was not having any attacks; but when he died I had no choice because my mum insisted I went to school. That, in a nutshell, was how it became possible for me to go to school."

Growing up, she said she never felt bad even though she knew she was different, maybe because nobody taunted or bullied her. Instead, she said she was protected and given a lot of care and attention.

"If I went to school and it was going to rain, they would bring a car to pick me, because the rain must not touch me. I must not go out in the cold, I must not step on wet ground; I couldn't even stay where there was a fan, let alone in a cold weather. But all that is gone now. Since I clocked forty, I have not had any attacks," she said joyfully.

When she wanted to go to England for Secretariat Studies in one of the colleges of secretariat studies, her mother was advised against the idea because of the cold weather but she insisted and went.

"I told my mum that the God that lives in Nigeria also lives in England, and although I had attacks, I visited the hospital and got better because they knew about the genotype and gave me good care. However, I am not saying going to England is the one factor that has kept me because I had had four of my children before traveling."

Asked if there were times when she thought she would die, she answered in the affirmative, relieving her experience during the delivery of her last child.

"I remember when I had my last child, I told the doctor that I would die that day but he said no, that I would not die. He and other doctors on duty were on ground, telling me that they were weighing the blood I was losing and they gave me the best treatment. In fact, at lunch time I was up and doing; I even had lunch with the doctors."

Unlike what many people would think, childbearing was not difficult for her at all. According to her, anytime she was pregnant, she didn't feel any pains or get any attacks. "See how wonderful God is? I also had good care."

As she grew older, she channeled her strength to work and praying to God to heal her or make it easier for her. She worked with the now defunct national post and telecommunication company, P&T for many years. She recalled that she and some others were the first set of people to be trained in tele-printing by the company.

"What gave me the strength is God because I am a prayer warrior. I prayed, I fasted regularly and I have visited the holy land (Mecca) thirteen times, to serve my God and ask him for what I want."

On what her don'ts are, Alhaja Laguda said she doesn't have any. "I eat everything that people eat. This morning I had bread and egg. I don't have any don'ts at all. I eat sugar also.

"Doctors see me and wonder what a miracle I am. I stopped having attacks since I turned 40 but they say my blood genotype still reads sickly.

"I eat dates a lot also because they are from Mecca and they are very good fruits."
Until she stopped going out by herself four years ago after she had a fall, Alhaja Laguda used to go to hospitals to talk to people living with the genotype, lecture and encourage them.

She washed her cloths herself until she turned 90, as she never felt satisfied with anyone washing them for her. "It's either they're not washing it clean or they're not rinsing it clean; so I washed them myself."

Narrating the story of her fall, she said: "The day I fell and broke my leg, I caused the accident. That day, I told my grandson, Bolaji that I wanted to wash but he told me not to, that he would do it himself when he gets back. When he left for work, I washed the cloths and left home to visit a friend. On returning from her place, I decided to take the cloths from the line but missed a step and fell. Since then I have been here. I don't go anywhere except I want to go downstairs and I must use my walking stick."

Consequently, she said she is fed up with sitting in the house. "I want to go but God has not killed me, so I have no choice but live."

Not being able to walk around, whether long distance or short and exercise her limbs is perhaps the major reason she is fed up with life.

Said the nonagenarian, "Before I fell, I used to walk from my house here in Ilasamaja, Lagos to Mushin and Oshodi market as a form of exercise because I believe walking is the best exercise one can engage in. I walked like that until I was 90 when I fell and had to stop."

Because she didn't know her illness was a genotype issue, she said she never blamed her parents. Even when she grew up and realised the cause of her perennial illness, she still did not blame them. "I didn't blame them because they were not civilised. Besides, in their time there was nothing like checking genotype before marriage."

Asked how she met her husband, she laughed and said, "I had many husbands o!" Her first husband, whom she called Dr. Alakija, was her doctor, who took interest in her and married - even though he was already married at the time.

"I know he loved me. He knew my situation but still went ahead and married me. I remember while attending Queens College, I was told that I would take swimming compulsorily; he stood his grounds and insisted that I be left alone.

"Swimming in those days was a compulsory subject but I couldn't swim because of my genotype, so he saved the situation for me.

"I married another husband when he died. I had two children for him."

All the men she married knew she was sickly but they didn't care because in those days, not everyone knew about sickle cell anaemia. "They loved me so, and married me so."

Alhaja Laguda called on parents with children who have SS to take care of the children very well, feed them well and show them lots of love. "This will make it easier for them to live with the disease. When it is cold, keep them warm; don't keep them at home because they are always sick; let them go to school, it is very important."
Would she accept an offer to go live in an old people's home, where she would be well taken care of and have her age-mates as playmates?

She said she has been told on several occasion that she should be taken to one but refused.

"I don't have anything against old people's homes because I visit them when I was able to walk but I can take care of myself. I pay for every service I need by myself; I am not a burden to any child. This house belongs to me and the tenants pay to me; I have a two-storey building on this street and on the other street; so I can take care of myself. I also have some shops in front of the buildings. I think these assets are enough to take care of me."

Asked how she made enough money to build the houses and shops, she said, being sickly didn't make her lazy. When I was working, I was trading too, so I had money to build the house. But this one we are in now was built by my late husband.

Proud Lagosian

"I am a Lagosian from the Onikoyi Chieftaincy family. We are the owner of Ikoyi but my family house is in Idumota, very close to the Tower clock.

"My mother hailed from Ibadan, Oluokun side, Kudeti, Oluyole. My father is the one from the Onikoyi family; we were a chieftaincy family before but now we have been upgraded to a kingship family. So we now have Oba OniIkoyi. So now our chief has moved from Idumota to Eko Hotel side with some other family members. My dad died in 1936 while my mum died at the age of 70. I am a replica of my mum."

- The Nation