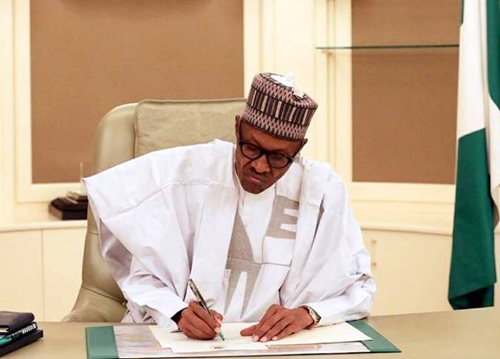 Speaking while declaring open the 1st session of the West African Ministers of Sports Council Meeting holding in Abuja, President Muhammadu Buhari, said he has directed the Minister of Youth & Sports Development, Solomon Dalung, to appoint pioneer managerial staff of the newly launched African Union Sports Council (AUSC) Region 2 Headquarters in Nigeria.

According to Vanguard, the President who made this known on Wednesday, was represented by the Minister of State for Power, Works and Housing; Suleiman Hassan.

He said the motive behind the directive is to facilitate the easy take-off of the AUSC Region 2 Permanent Headquarters/Secretariat which is situated in the Federal Capital Territory (FCT), Abuja.

The President also directed the Minister of Foreign Affairs, Geoffrey Onyeama, to accord Diplomatic status to the AUSC Region 2 Headquarters and its Secretariat staff.

"I have directed the Federal Ministry of Youths and Sports Development to engage few pioneers in the managerial staff to facilitate the take-off of the African Union Sports Council region 2 Permanent Secretariat, and pay them in line with personnel scheme of the service of the African Union Commission," he said.

Buhari added that Nigeria attaches great importance to sports deveopment; hence its acceptance to host the maiden edition of the West African Ministers of Sports Council Meeting in order to provide the needed platform for the sub-region to hit the ground running through the formulation and implementation of ground-breaking and insightful sports policies.

He further urged the Ministers to use the opportunity provided by the meeting to align sports with peace, security, education, health promotion, social mobilization, employment creation, socio-economic development, regional integration, conflict prevention and resolution.

In his remarks, Dalung said Nigeria having accepted to host the Secretariat also has commensurate obligations, which include the responsibilities of the staff of the Secretariat, the provision of the Secretariat building, among others.

"Even though there are annual subventions from member nations that will support the operations of the Secretariat, Nigeria as the 'Big Brother' we have to shoulder the initial operational responsibilities in order to enable the secretariat take-off properly," he said.