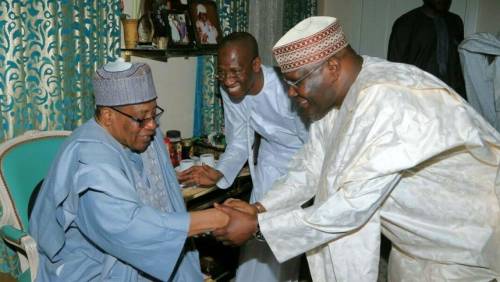 According to a report by SaharaReporters, fresh facts have emerged on what former Vice President, Mr. Atiku Abubakar, discussed with former military president, General Ibrahim Badamasi Babangida, during his visit on Thursday to the latter at his home in Minna, capital of Niger State.

Mr. Abubakar recently defected from the Peoples Democratic Party (PDP) from the ruling All Progressives Congress (APC) in pursuit of his presidential ambition.

According to SaharaReporters, sources close to the meeting, revealed that the former vice president's discussion with General Babangida, who is a PDP member and has defended the former's decision to quit the APC, was largely based on developments within the PDP.

The party which, since its ouster from power in 2015 has been riven with crisis, holds its national convention on Saturday.

Mr. Abubakar, said a source, pleaded with General Babangida to speak on his behalf to the governors elected on the PDP platform, who have cold-shouldered him since he moved to his new political habitat.

Of special interest to Mr. Abubakar is the governor of Rivers State, Mr. Neysom Wike, whom sources said the former vice president asked General Babangida to call to order.

Mr. Abubakar also urged the former military ruler to use his closeness to Mr. Ahmed Makarfi, Caretaker Chairman of the party, to ensure that his candidates are elected into four strategic party positions at Saturday's national convention.