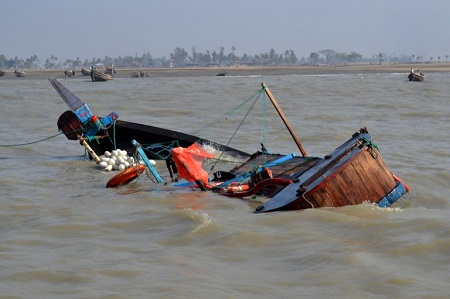 Residents of Wushishi town, the headquarters of Wushishi Local Government Area of Niger State were thrown into mourning yesterday when a boat capsised on river Kaduna leaving a baby just born in the canoe and uncle drowned and died, Vanguard reports.

However, the parents of the new born baby survived the accident.

According to Vanguard, it was reliably gathered that the parents and the uncle of the newly born baby were rushing from Tungan Samia village to Wushishi general hospital for safe delivery of the baby but eventually lost the child to the mishap.

An eye witness told Vanguard that mid-way into the journey, the woman went into labour and subsequently delivered the baby suceessfully in the canoe.

However, the passengers in the canoe decided to drop the motorcycle in the boat to avoid the smell of petrol inside the motorcycle from affecting the new baby.

Just as the motorcycle was being removed, the eyewitness said the boat tilted and while they were struggling with the machine, the boat eventually capsized and subsequently led to the death of the new born baby and his little uncle who drowned.

With the help of divers in the area the parents of the baby were rescued alive but the new born baby and uncle were unlucky as they died.

The remains of the baby and the uncle have been buried along the river bank.

Director General of the Niger State Emergency Management Agency Alhaji Ibrahim Inga when contacted confirmed the story but did not give the names of the occupants of the boat.

Inga who described the incident as "very sad" said water transportation had been causing untimely deaths in the state in recent times despite the sensitisation carried out by the Agency saying ," We are tired of loss of innocent lives through boat mishap but we will continue with our sensitization of the travellers and the operators on the need to follow the laid down rules before embaking on such journeys".