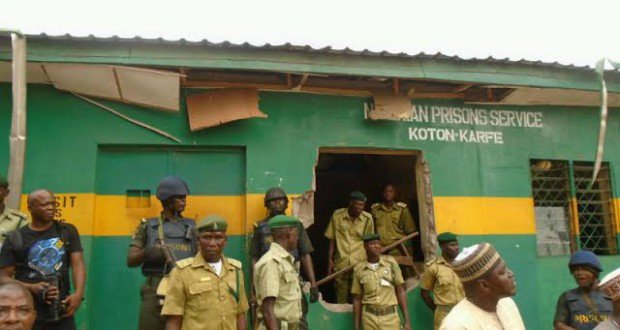 Eight officials of the Nigeria Prisons Service, NPS, have been dismissed for various offences.

According to Premium Times, the NPS named the dismissed officials as Thomas Jatau, Mottallem J., Mohammed JIbril, Saleh Dan'Azare, Umar Gusau, Mohammed Ja'Oji, Saidu Gusau, and Maji Maku.

The officials, according to a statement by the NPS, were dismissed for various offences including "trafficking in mobile phones" and "trafficking in Indian hemp."

Read the full statement from the NPS below.

NPS Dismisses 8 Prisons Officers for Trafficking

The Controller-General of Prisons, Jaáfaru Ahmed has approved the recommendation of the Zonal Disciplinary Committee for the dismissal of eight junior officers for various offences against discipline. They were found guilty of trafficking (smuggling) prohibited items such as mobile phones, India hemp and other intoxicating substances into the prison yard for inmates.

The letter signed by the officer in-charge of discipline, O. Agun, on behalf of the Controller-General has IP Thomas Jatau and PA 11 Mottallem J. Yari dismissed for trafficking in mobile phones while AIP Mohammed Isah Jibril, CPA Saleh Mohammed Dan'Azare, PA 1 Umar Gusau, PA 11 Mohammed Ali Ja'Oji, PA 1 Saidu Ibrahim Gusau and PA 11 Maji Maiku got fired for trafficking in India hemp, intoxicating substances and other prohibited items.

Illegal access to mobile phones and other communication gadgets by prisoners has been of great concern to the management of the Prisons Service as various criminal activities have been perpetrated by inmates including facilitating jailbreaks and escapes. Similarly, apart from the far reaching health implications of exposing inmates to the use of India hemp and other intoxicating substances, the act also compromises discipline and negates inmate reformation thrust of the prison.

The Controller-General wishes to appreciate officers and men of the Service including members of the public for providing useful information that has continue to assist the authority in identifying unfit individuals within the ranks for appropriate action.

The public is once again assured of humane custody of prisoners and sustainable peace and calm in all prison formations across the country as efforts are now being strengthened to guarantee adequate reformation and rehabilitation of offenders to become productive citizens on discharge.