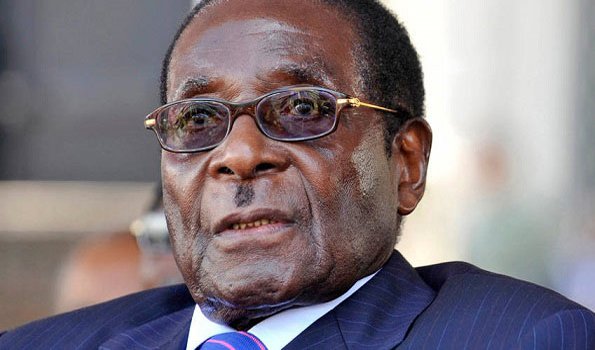 The letter by President Robert Mugabe stating his intention to resign as the President of Zimbabwe with immediate effect was not just a letter; it was one that set off a ripple of excitement through the streets of Harare, the country's capital city, and beyond. It also promises changes beyond the borders of Zimbabwe.

Media reports of how Zimbabweans flooded the streets in wild jubilation have pervaded the airwaves following the exit of the 93-year-old leader from office on Tuesday. They told of how horns hooted and cheers of joy filled the air as Zimbabweans celebrated into the night on the streets of Harare. Such jubilations even extended to the streets of Johannesburg, South Africa, which has a large population of Zimbabweans.

In their euphoria, some Zimbabweans have declared November 21, 2017, the day Mugabe resigned, their Independence Day, even though the country's independence falls on April 18.

But the logic behind such a declaration can be deduced - Mugabe is the only leader Zimbabwe has known since its independence from Britain in 1980 and a blot of allegations of election rigging, repression of dissent and causing the country's economic collapse on his 37-year reign, made his people welcome his resignation with relief.

However, there are signs that Mugabe's exit from power will have a ripple effect on other countries, particularly in Africa. Zimbabweans have already begun calling on fellow citizens abroad to return home, particularly those who had fled to South Africa.

But beyond issues related to migration and economy, political analysts are of the opinion that the development in Zimbabwe could have far-reaching effects on Africa, particularly in countries with 'sit-tight' leaders, even though, Mugabe's exit did not arise from an uprising or a revolution by the people.

Rather Mugabe's exit was as a result of an internal crisis in government and the ruling Zimbabwe African National Union-Patriotic Front following a feud between the President's wife, Grace, and his vice president, Emmerson Mnangagwa.

The feud led to the sacking of Mnangagwa by Mugabe, paving the way for Grace to succeed the aged leader instead of his vice president, who had been touted as his likely successor. The military later moved in and put Mugabe under house arrest and his eventual resignation soon followed.

However, political analysts have described the incident in Zimbabwe as one that could trigger revolution movements in Africa that will be similar to the Arab Spring. Arab Spring is often used to describe a series of anti-government protests, uprisings and armed rebellions that broke out and spread across the Middle East in 2011.

For example, a former Nigeria's Ambassador to Greece, Prof. Olu Agbi, said Mugabe's exit would have sent a message to other African countries with 'sit-tight' leaders.
"How could Mugabe just feel that he would dismiss his vice president and allow his wife to take over as if it is bedroom democracy?
"So the other countries where we have leaders who have been in power for so long, a message has been sent to them, their people and their defence forces. It shouldn't be a coup where people get killed, but it can be a situation where you tell such leaders that they have done so much and should leave," he said.

Africa is home to a number of 'sit-tight' leaders, many of whom use open rigging and constitutional change to continue to remain in office.

For instance, President Paul Biya of Cameroon assumed office on November 6, 1982, following the resignation of President Ahmadou Ahidjo. The country's parliament in 2008 passed a controversial amendment to the constitution that enabled Biya, 84, to run for a third term and in October 2011, he won another election to remain in power. The election was largely described by observers as marred by irregularities. Only Biya and Ahidjo have served as Presidents of Cameroon since the country got independence from France in 1960.

Uganda's President, Yoweri Museveni, 73, got into office in 1986. In 2005, the country's constitution was amended to allow Museveni extend his time in office.

The country's last presidential election in 2016, which was won by Museveni, was overshadowed by allegations of rigging and arrest of opposition politicians and activists. In 2016, Museveni appointed the first lady as the Minister of Education and Sports.

Similarly, Teodoro Obiang Mbasogo, 75, has been the President of oil-rich Equatorial Guinea, amid allegations of corruption and rigging, for about four decades.

His son, Teodorin, who was named his father's vice-president in 2016, has been enmeshed in allegations of corruption and money laundering. He has had over $70m worth of his assets seized by the US, including a Malibu mansion, a Gulfstream jet, a Ferrari said to worth more than $500,000.

Idriss Deby, 65, has been the President of Chad since 1990 following a coup d'état.

In 2016, Deby won an election to remain in office for a fifth term.

Seventy-three-year-old Omar al-Bashir of Sudan has been in power since his 1989 coup that ousted the democratically elected government of Prime Minister Sadiq al-Mahdi.

Subsequently, in 1993, al-Bashir unilaterally increased his powers when he appointed himself President of the country and disbanded the governing body of Sudan, Revolutionary Command Council for National Salvation, and all other rival political parties. He, therefore, assumed the executive and legislative powers of the council.

Faure Gnassingbe became the President of Togo in 2005 after the death of his father, Gnassingbé Eyadema, who had been the leader for 38 years.

In September, thousands of people marched through the streets of Lomé, Togo's capital, protesting against Gnassingbé's continued stay in power.

The protests were organised by a coalition of opposition parties and civil society organisations.

Amnesty International estimated that 100,000 people marched in Lome, with many of them wearing the red, orange and pink colours of the opposition parties as they chanted "Free Togo" and asked Gnassingbe to step down.

A professor of Political Science at the University of Nigeria, Nsukka, who described the development in Zimbabwe as good, also described it as a "lesson to African leaders."

He said, "It will let African leaders who want to stay in office perpetually know that if they don't leave, that is what will happen. They may be thrown out. Nobody would have believed that Mugabe would be thrown out. Leaders should leave when it is right so that there will be room for others to compete.
"They should learn not to stay in office beyond when it's necessary. What will happen in Africa now is what happened in the Middle East. We can have an African Spring whereby people will move to the streets to force out their leaders.
"It happened in the North African countries, where leaders were forced to leave and elections were organised, so it is a good development. So there is going to be an African Spring that will force African 'sit-tight' leaders out, not by military coup but through mass mobilisation."

Onuoha noted that "leaders want to die in government because they are intoxicated by political power."
"Once you have political power, you are a god and everybody bows to you; not because they like you, but because they have to do so. And once you allow that to get into your head, you are finished. So leaders want to remain in power because they get used to being worshipped and so on.
"Most leaders find it difficult to leave office and that is why they wait till they get thrown out. Look at Nigeria's former President Olusegun Obasanjo, he allegedly plotted to stay for another term. If it were possible for them to stay for so long, they would," he said.

Also identifying the reasons why some leaders find it difficult to leave office, Agbi said, "It is because of the horrible things they do in government. When they are in government, they expose themselves to the kind of opulence they cannot get elsewhere.
"The late Obafemi Awolowo (a former Premier of the defunct Western Region) said that a life you cannot live outside government, don't live it in government. But a lot of our leaders have exposed themselves to lifestyles they cannot live outside government and they don't want anyone to know what they have done, so they like to die in that office.
"And when someone dies in Africa, we say we should not speak ill of the dead and so, we forget about his atrocities. Gabon is an oil-rich country but its money was in its late President, Omar Bongo's pockets. He had wives all over the world. How could a leader maintain such a lifestyle if he does not continue to stay in office?"

Agbi, therefore, expressed hope that with more population of youths who being politically-inclined, there would be positive changes in Africa's political system.

But Onuoha noted that it was only by building strong institutions that Africa could deal with the problem of leaders wanting to remain in office at all costs.

He said, "Strong institutions can be built through good governance. There was a time when people had no hope in the Independent National Electoral Commission but with the recent governorship election in Anambra State, it made people believe that their votes counted. That is how to build strong institutions, by not interfering in the affairs of institutions. In the case of Zimbabwe, the institutions were weak, but with the military, Mugabe was forced to leave."

However, a professor of Politics and International Relations and a former Ambassador to Belgium, Alaba Ogunsanwo, described the recent development in Zimbabwe as "unique", saying it would be wrong to assume that what happened in Zimbabwe would happen elsewhere.

He said, "What happened in Zimbabwe had nothing to do with the people. The military that initiated it was part of the ZANU-PF. It was a revolution and the armed forces were part of the group that struggled for it. There is no doubt that the country's military sees itself as a wing of the ZANU-PF.
"And when they saw things were going wrong in the party that might lead to destruction, they moved in. That was why the sacked vice president said that even while he was in exile in South Africa, he was in touch with the military chief.
"So they knew what they wanted to do and when the military told the people that they could go out and demonstrate if they wanted Mugabe out, they did so. Initially, the people were not sure if they would be shot at by the police but with the assurance by the military, they went out and demonstrated.
"And ZANU-PF also told the people that they could join the demonstration. We cannot see it as an example of something that others will want to copy. It was well-managed because the military understood the environment in the Southern African region, which does not tolerate coups.
"And subsequently, the army was saying that it was not a coup and that was why Mugabe was allowed to go out and still do some of the things he wanted to do. So it is a unique situation and we don't have to generalise and assume that it will happen in other parts of Africa."

Ogunsanwo noted that citizens of the countries with 'sit-tight' leaders deserve their leaders, saying: "There are situations where people feel what is going on is bad but they will not want to change it because it gives them the opportunity to put the corrupt people in power. Do you think people care about corruption in Nigeria? They don't. It is a joke. If you are rich, people will vote for you; it is straightforward."

Culled from Saturday Punch