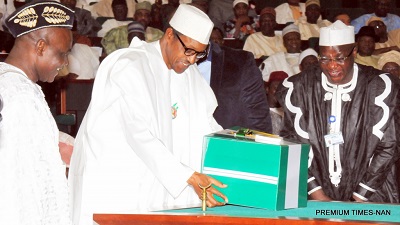 Senate Leader, Ahmad Lawan, on Thursday said the nature of the 2018 Appropriation Bill to be presented to the National Assembly next week would determine how soon it would be passed into law.

Lawan said this in an interview with State House correspondents shortly after he and Senator Sola Adeyeye met President Muhammadu Buhari at the Presidential Villa, Abuja.

The senate leader said although it was the desire of all stakeholders that the bill is passed latest by December 31, federal lawmakers would do a thorough job on the document.

"It (passing the budget by December 31) depends on how it goes. You know we are supposed to be working for the same people of Nigeria and we will like to see the National Assembly working with the executive arm of government.
"You know these things will be determined by what the budget looks like, the estimates presented to us because naturally, we always try to do a very thorough job, a very patriotic job to ensure that the budget is implementable, to ensure there is equity, fairness, and justice in the distribution of projects across the country.
"We will like to see that done, but we shouldn't just do that at all costs; we should be looking at the benefits that could accrue from doing that and whether it is possible to just do it at once or maybe reduce the period in two phases or even more.
"The 2017 budget took effect from June this year; if it is possible for us to complete the implementation of the budget in six months from June, so be it; but that also requires that we implement the budget properly because these are projects that are supposed to bring development, relief and succour to Nigerians, and if it is not possible, we shouldn't force it on ourselves."

Asked if he was satisfied with the implementation of the 2017 budget so far, he said, "We are still working to ensure that the implementation of the 2017 budget continues, so far it hasn't been able to be implemented the way we thought it would," Lawan said.