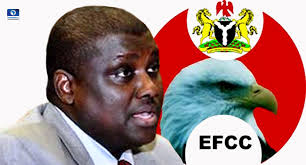 The wanted former chairman of Pension Reform Task Team, Abdulrasheed Maina, has been asked to report to the Economic and Financial Crimes Commission (EFCC), by the Minister of Interior, Abdulrahman Dambazau.

According to a report by PUNCH, Dambazau's directive is contained in an official correspondence sent to the EFCC by the ministry. The suspect has also not reported to work since the close of work last Friday.

The letter was reportedly in response to a letter written to the ministry asking that it makes Maina available for questioning.

Sources within the EFCC said the usual procedure for inviting senior government officials is to write to the head of the ministry or agency where the person works.
"The Ministry of Interior sent a letter to the EFCC on Tuesday informing the commission that it had mandated Maina to make himself available for questioning at the EFCC headquarters in Abuja. So far, Maina has not made himself available and we are still looking for him," a source at the EFCC said.

Speaking with a correspondent on the telephone, the spokesman for the EFCC, Wilson Uwujaren, said that operatives were still on Maina's trail. He said, "We are still on his trail and he has not yet been arrested."

Dambazau spoke even as Maina's lawyer, Esther Uzoma, said on the telephone on Tuesday that she did not know his whereabouts. And when asked if she would cooperate with the authorities to locate him, Uzoma refused to speak further.
"I don't know where he (Maina) is and I cannot speak further," Uzoma, who is a human rights activist said.