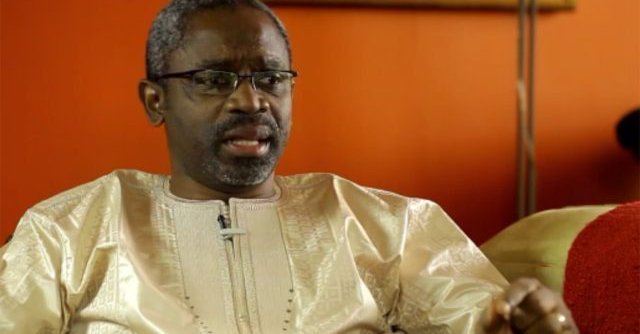 The Majority Leader of the House of Representatives, Mr Femi Gbajabiamila, on Thursday in Lagos took to teaching, taking Senior Secondary 3 students in some schools in his Surulere 1 Federal Constituency through some subjects.

The News Agency of Nigeria (NAN) reports the lawmaker taught the students topics in Economics at Gbaja Girls High School, New Era Girls Secondary School and Onitolo High School.

Gbajabiamila told newsmen after the exercise that education is a veritable tool to achieve sustainable development, and no nation achieved greatness without adequate investment in it.

He said the development strides of advanced countries and the Asian Tigers were because of their great investment in the sector.

The lawmaker said if the country desired to be counted among advanced and prosperous nations, it should increase its spendings on education.
"We need to do a lot more in the education sector. We need to increase our investments in the sector.
"Education is the bedrock of development. Education is the foundation. And if you have a weak foundation, you are just wasting your time.
"You see, Nigeria and the four Asian Tigers (Singapore, Taiwan , HongKong, South Korea) were on the same level 50 years ago, but today, they have gone way past us.
"It is because they sowed in education, they invested in education, they are reaping bountifully today.
"It is never too late for us. My advice to all governments is that we should look at our successive budgets from now and give the right attention to education.
"We should increase our budgetary allocations to the sector to meet the 26per cent UNESCO standard or even go beyond it, "he said.

Gbajabiamila urged stakeholders not to see education as government business alone, urging them to lend support to lift the sector.

The lawmaker said parents, after from making investment in their children's education, should strive to be their best teachers as they spent more time with them.

He said the decision to take students in his constituency classes was not only to impart knowledge to them, but also inspire them.

The lawmaker said the decision was also to know the feeling in the classroom, of teachers and students, for the necessary intervention.

Gbajabiamila described his experiences teaching the students as fulfilling and promised to do a repeat.

NAN reports that apart from taking the students topics in Economics, he also counselled them on the need to stay away from drugs, how to be focussed and how to avoid bad company.

The lawmaker recieved a rousing welcome from teachers and students of the schools he visited.

-NAN