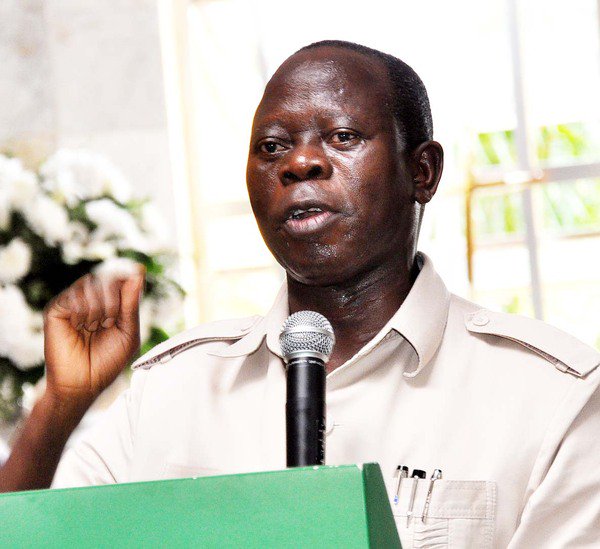 A former Governor of Edo State, Adams Oshiomhole, has reacted to the comment by World Bank president, Jim Yong Kim, that President Muhammadu Buhari sought the institution's support for Northern states.
Governor of Borno State, Kashim Shettima, had listed Oshiomhole as one of those at the parley.
On Sunday, the former governor confirmed that he was present at the meeting between Buhari and Kim Jim in 2015.
Oshiomhole lamented that the president's statement was twisted and given sectional meaning, contrary to the true intentions and context of the discussion.
In a statement, Oshiomhole said "It is true that I was present with Mr. President during the interaction with the World Bank president".
"The context under which Mr. President made the statement that is now being twisted was against the backdrop of the devastation of the North-east zone, and the need to solicit for assistance from the World Bank and any other foreign agency to help address the issue.
"It was a patriotic request borne out of a burning desire to find immediate and permanent solution to the crises in the North-east zone.
"This idea of trying to read sectional meaning to this genuine request for international assistance to help cushion the challenges faced as a consequence of the Boko Haram menace, is utterly unfortunate.
"We should know when to play politics and when not to play politics especially with serious developmental challenges such as the unpalatable outcome of Boko Haram activities.
"We were quite happy that Mr. President was able to articulate his request for assistance from the World Bank amidst a host of other challenges confronting us as a nation.
"We needed to prioritize the challenges and the unwholesome plight of the Internally Displaced Persons was critical at that material time.
"Any reasonable president could not have asked for anything beyond that humanitarian crisis that was giving us international embarrassment.
"President Buhari remains a statesman who is altruistic, genuine and patriotic in the discharge of his statutory responsibilities," he added.
"We should see the country as one and work towards achieving her lofty objectives of being a true giant in the continent of Africa."
Meanwhile, former vice president Atiku Abubakar has commented on now-controversial request by President Buhari.