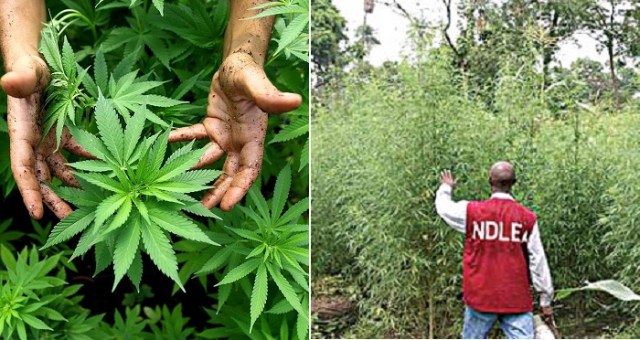 5000 hectares of plantation have been reportedly destroyed by officials of the National Drug Law Enforcement Agency (NDLEA) in Ondo state as 14 suspected growers and cultivators of the indian hemp have been arrested.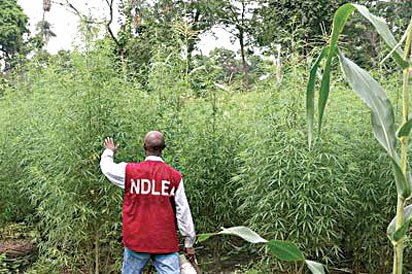 The Indian Hemp Farm The arrest and destruction of the plantation at Ala forest was carried out by a Special Enforcement Team(SET) led by the Controller of Operations(CN) of the Agency Sunday Zirange.
Those arrested include both men and women. The led by the NDLEA's Chairman/Chief Executive Officer(CEO) Col.Mustapha Abdallah(Rtd) were on a two day operation to the state.
Also, two suspected cultivators of the substance had to abandon what they were cooking on fire inside their hut when they saw the team but were later arrested in a nearby farm where they were hiding.
Hundreds of labourers were engaged by the agency to cut all the substance before they were set on fire. Speaking on behalf of the NDLEA Chairman, Zirange lamented the rate of deforestation in the southwest especially Ondo state.
He said:
"In the next 10 years if care is not taken, the thick forest in the west would have disappeared. The Northern part is a desert region, with fast encroachment while the south which is suppose to be the hope of the nation is being used for cannabis cultivation and the destruction of economic trees.
This development is affecting this country, all hands must be on deck, because the situation will affect the whole world with the issue of global warning as a result of environmental degradation".
"Last year about 72 tonnes of cannabis were seized in Ondo forest zone, now we decided to be on the plantation site for us to see things for ourselves, you can see, there is no standing trees again, we will bring those arrested to justice."
Source: Vanguard