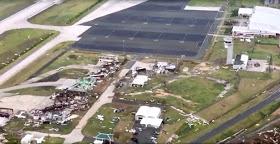 Dozens of inmates have reportedly escaped a Caribbean prison that was ravaged by Hurricane Irma.
Between 100 and 120 prisoners are said to have fled the facility on the British Virgin Islands, Sky News reports.
The prison was partially destroyed by the hurricane, it was claimed.
The British Virgin Islands were one of the territories lashed by Irma as the monster storm tore through the Caribbean towards Florida.