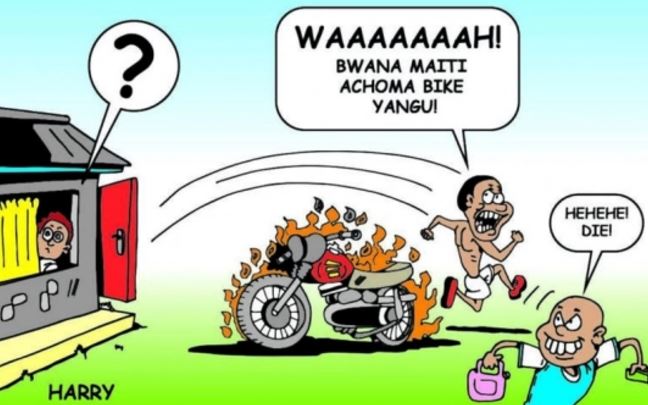 A randy boda boda rider (commercial motorcycle rider) in Awendo, Migori County, Kenya, had his motorbike set ablaze by an envious man upon suspicion that he (the rider) was romping a widow whose heart the arsonist had unsuccessfully tried to win.

The alleged arsonist having been a regular visitor at the widow's house arrived unannounced only to find a motor bike parked outside. On closer scrutiny, he realised it belonged to a popular rider famed for his randy nature.

Being a week day and her children away in school, the man made one conclusion; the rider was having a gland to gland combat with the widow!

Being the jealous man that he is alleged to be, he did what any man with such a character would do; he sought revenge. And what a better way to avenge than douse the motorbike with petrol, and set it aflame. Unfortunately for the rider, he doesn't own the bike, thus, his boss is on his case, demanding that he buys another one.

After the incident, naughty eye witnesses joked that the rider was so much engrossed in the throes of passion that he couldn't notice his bike was up in smoke, seeing as he only emerged when it was too little too late.

The widow is said to have confided to one of her friends that indeed she has been having a secret affair with the boda boda rider, and the alleged arsonist who regularly visits her had made an impromptu visit, and got her off guard.

Had it not been an alarm raised by villagers in the neighbourhood, the two love birds would have perhaps not heard anything.

It was only after hearing neighbours shout and scream that the rider bolted only to get shocked to see his motorbike burning. Interestingly, the first thought that came on his minds was that the widow's late husband had

"I was shocked to see my motorcycle on fire, and I thought the widow's dead husband had resurrected and unleashed wrath on me. I took off in fear, only to come back later to find a shell of the machine," said the youthful rider.

However, his close friends said he had earlier denied the fact that his bike was set on fire while he was making love to the widow. He had lied that he was only having a friendly chat with her.
"We challenged him to tell us the truth on why he could not realise his bike was on fire until when neighbours raised the alarm," said one of his colleagues.

Police in Uriri confirmed that a case of a burnt motorbike was reported to them, but it was difficult to arrest and prosecute anybody, since the owner had not recorded a statement. Perhaps this was due to the scandalous nature of the matter.
"We are still trying to understand the circumstances that may have led to the torching of the motorbike. But for now, it may be difficult to prove until when we have concluded our investigations," said a regional investigation officer conversant with the case.

For now, the young man's whereabouts are unknown since he has been conspicuously missing at the Uriri bodaboda rank where he operates from.

***
Via SDE