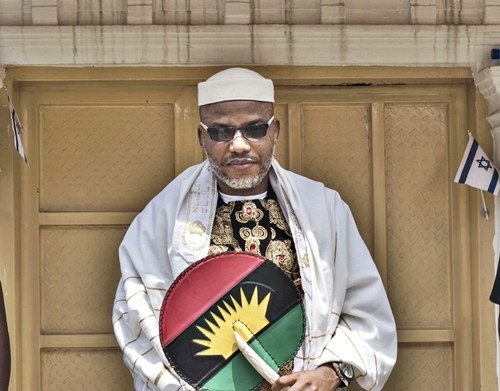 While speaking with newsmen on Wednesday at his Church auditorium in Nnewi, Anambra State, the General Overseer of Mount Zion Faith Global Liberation Ministries Inc, a.k.a Fire By Fire, Bishop Abraham Chris Udeh, threw his weight behind the call by IPOB leader, Nnamdi Kanu for a referendum or there would be no election in Anambra state.
According to Vanguard, the influential cleric
said the call by the controversial IPOB leader for the boycott of the election unless a referendum is conducted, was in order and should be obeyed.
He said those who faulted Kanu on his insistence for referendum must have seen how the National Assembly threw away the issue of devolution of power or what some people call restructuring in its on-going constitutional amendment effort, adding that this alone has justified the call for referendum.
Bishop Udeh cleric noted that there was no amount of pressure that would make the All Progressives Congress (APC)-led Federal Government to listen to the yearning of the people for restructuring.
According to him, "these are the reasons that made me give 100 percent support to the referendum being canvassed by Kanu and my argument is that if President Muhammadu Buhari's government had a listening ear, it would not have toyed with the peoples demand to restructure Nigeria."
The cleric insisted that for these reasons, all Nigerians should rise up to support referendum to be conducted, so that those who do not want to remain in Nigeria can easily transform to Biafra.