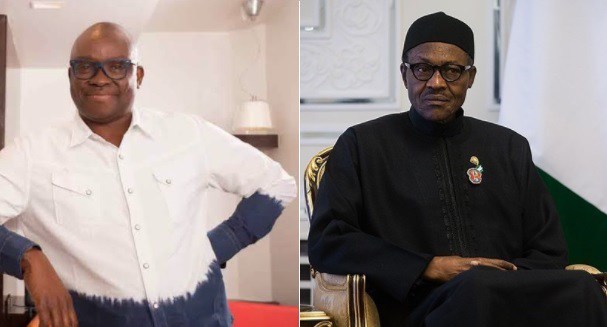 The governor of Ekiti state Ayodele Fayose has refuted claims that he wishes President Muhammadu Buhari dead.

The governor in an interview with Punch said he only wants to visit the president in London.

Reacting to the recent visit by some members of the Nigerian Governors' Forum, Fayose said he never doubted the judgement of his colleagues who visited President Buhari in London.

The governor however said he is only concerned about the secrecy surrounding the president's health status Fayose asked: "If Nigerians wanted me to be there but they [Buhari 's handlers] didn't give me the access, what can I do?"

"I have to move on and join them to wish the President well. What is important is Nigeria. When Senator [John] McCain was sick in the United States, he came out boldly to say he had a brain tumour," Fayose said.

He noted the health of a president should be regarded as a public issue but the presidential handlers were rather causing confusion with his [Buhari's] health.

"Like I said, I don 't want the President dead, but we want to know the true state of health of our president. For me, I 'll love to go there [the UK] to see [him].

"But if they say they are not giving me a passage, it is all well and good , as long as the President is hale and hearty. If he is not fit, let him resign," Fayose added.

The governor reiterated that he would become the President of Nigeria, stating that those who are doubting will visit him in Aso Rock.

"I never predicted my presidency. I have a right to contest and I said I will contest and I will win. When I predicted that I would come back as governor of Ekiti State, many people doubted [my prediction]. But because man has no capacity to see tomorrow, they can write you off. Those who wrote me off then see me in the position of authority today.

"When I was down the valley, they thought I would never rise. But the Lord said in Psalm 23: 'I will set a table before you in the presence of your enemies.' In this country, I'm going to the (Presidential) Villa. I'm saying that, by the special grace of God, those who doubted me today will visit me in Aso Rock as the president or the vice president - as the case may be."