Some local indigenes of Federal Capital Territory have been seen protesting unclad as they demand a slot of Permanent Secretary in the Buhari-led federal government.
Some native Abuja indigenes on Wednesday morning, interrupted activities at the Office of the Head of Service of the Federation (OHSF) as they protested naked, demanding for a permanent secretary slot.
According to multiple online reports, the protesters said to be mainly of Gbaygi extraction carried placards with various inscriptions, and blocked the entrance to the office of the Head of Service.
Their moves were however, curtailed by heavy presence of security operatives who condoned off the place with Armoured Personnel Carriers.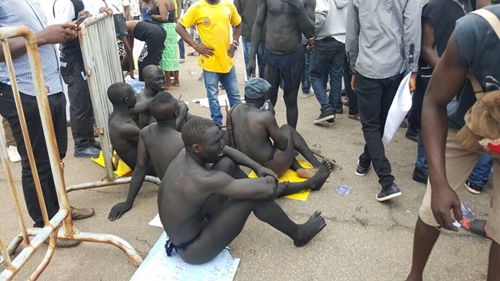 Recall that we had reported some weeks ago that some native residents of the federal capital territory (FCT) protested unclad at the entrance of the National Assembly, Abuja over alleged marginalization, and also threatened quit notice to residents of the nation's capital.