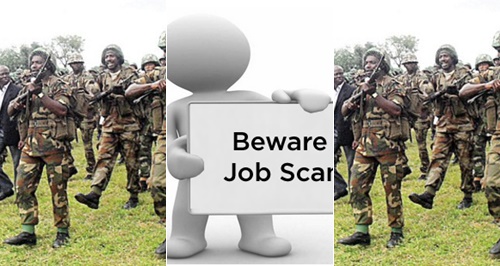 The Nigerian army, in a statement, has warned Nigerians about the activities of fraudsters claiming to be recruiting candidates on its behalf.
The Assistant Director, Army Public Relations, Depot NA/Nigerian Military School, Capt. Hussaini Sani, in a statement, alerted Nigerians about the activities of fraudsters.
Sani said,
"It has been brought to the notice of Headquarters of Depot Nigerian Army that criminal minded individuals are parading themselves as relatives to the Depot Commandant, Brig-Gen. Victor Ezugwu.
"The fraudsters do that to defraud innocent citizens who were not successful during the just concluded 76 Regular Recruits Intake exercise.
"Others also claimed to be principal staff officers of Depot NA thereby convincing their victims to pay huge amount of money to be recruited into the Nigerian Army," he stated.
The assistant director added saying the Depot have no hand in conducting recruitment exercise, but only train those already selected, the recruitment for 76 Regular Recruits Intake had since been officially closed.
"Consequently, potential recruits are advised to try the next recruitment intake and not to allow these criminal minded and unpatriotic individuals to defraud them under any guise.
"Such arrangement does not exist and recruitment into the Nigerian Army is free and no candidate is expected to pay money to any individual whatsoever," the statement added.