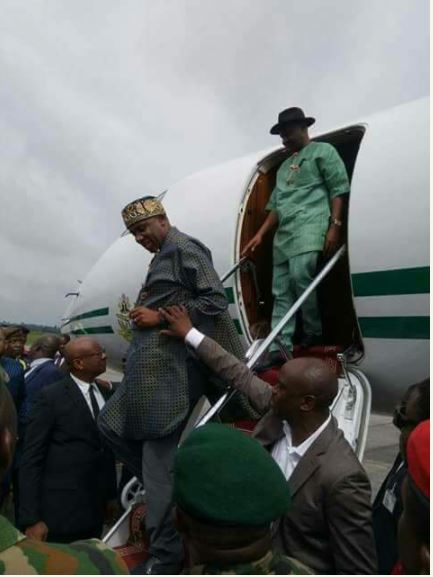 First, it was the Minister for Transport, Rotimi Amaechi who stepped out of the Presidential Jet, with shouts of "the Lion" by All Progressives Congress faithfuls who besieged the airport, then next was Senator Magnus Ngei Abe.

They both walked down to where the chopper was waiting for the Acting President, Prof. Yemi Osinbajo. The Acting President then alighted the Jet and was received on hand by Governor Nyesom Wike of Rivers State and a handful of traditional rulers and others who queued for a formal handshake with the august visitor.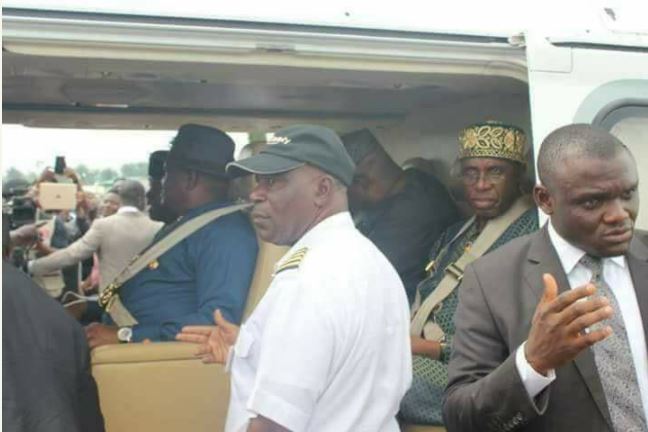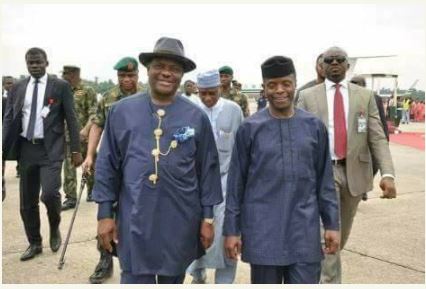 Governor Nyesom Wike and Acting President Yemi Osinbajo

A mild drama ensued as Wike pointed at the already waiting BMW to chauffeur drive Osinbajo who insisted rather that they walked to the already waiting Chopper where Amaechi, Abe and co were already seated.

Wike who was visibly worried tried hard to convince Osinbajo to go with him and commission just one project, but the Acting President insisted that they head to the Chopper for the venue of the commissioning of the World standard Fertilizer project built by the INDORAMA Group.

A disappointed Wike had to leave his aides, supporters and convoy behind and joined Osinbajo to the Chopper where APC faithfuls were already singing the praise of their leader, Rotimi Chibuike Amaechi.

As soon as Osinbajo entered into the Chopper and Wike made his way to enter, the already charged youths began to boo him with shouts of, "Come down!, Come down!" while some others continued with shouts of "the Lion!" until the Chopper left.

The governor's convoy and his party faithfuls were now grumbling over their leader's failure to convince Osinbajo to first commission any of his projects had to make their way back home as it was obvious that they may not make it to Eleme, the venue of the official program for the Ag. President.

It is not yet clear if the visitor will concede to Wike's pleas to commission any of his projects after the INDORAMA program.