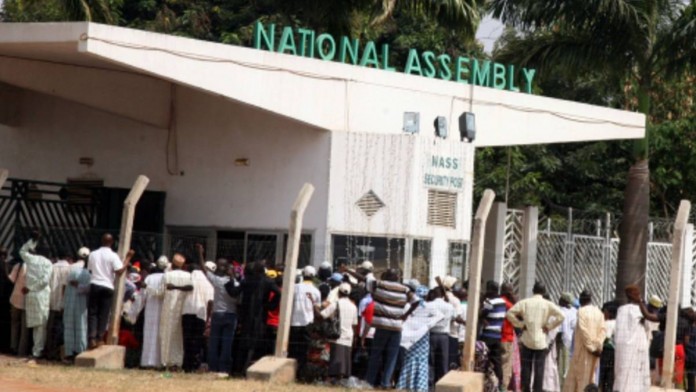 Protesters on Tuesday shut down the main entrance of the National Assembly gate as security officials denied them entrance to speak with lawmakers.
THEWILL gathered that the protesters are members of the 'I support #NottooYoungtoRun' movement who seek a constitutional backing for young Nigerians to be able to vie for elective positions.
The protesters gathered on Tuesday at the Unity Fountain, Abuja for a rally which was concluded with a solidarity match to the main entrance of the National Assembly gate with the intention to speak with the lawmakers.
However, they were prevented by the security officials which made the protesters, in their hundreds, block the roads and refused vehicles to exit or gain entrance to the National Assembly.
THEWILL recalls that the House of Representatives will be considering the amendment of the 1999 Constitution through electronic voting on Tuesday and Wednesday.
The report was submitted to the house by the Lasun Yusuf- headed Constitution Review Committee last Thursday.
A major highlight of the review includes a reduction of the age limit for the office of the President from 40 years to 35 years.
This means that future presidential elections in the country is to be thrown open to interested Nigerians from the age of 35 and above. The current minimum age for qualification for the office is 40.
Besides, Nigerians from the age of 25 years may also be allowed to seek election into the state assemblies and the House of Representatives, down from the present 30 years.
The age qualification provision comes under a bill entitled "An Act to alter the provisions of the constitution of the Federal Republic of Nigeria, 1999, to reduce the age for qualification for the offices of the President and Governor and membership of the Senate, House of Representatives and the State Houses of Assembly, and for other related matters."