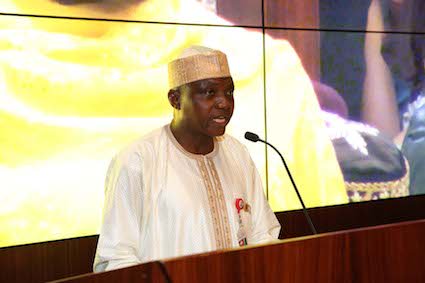 Garba Shehu, the Senior Special Assistant on Media and Publicity to President Muhammadu Buhari has said it was up to the President himself to decide whether details of his health status will be disclosed to Nigerians or not.
He said this on Monday night while speaking about the President's health during an interview with Seun Okinbaloye of 'Politics Today' on Channels Television, which was monitored by DAILY POST.
Asked if he was aware of what was wrong with the President, Shehu said: "It has not been disclosed".
Concerning whether details of the President's health status will be disclosed to Nigerians, he said it was up to the President.
"The President himself will decide that. You know also he had a past opportunity on which occasion he himself made the disclosure.
"So, therefore, I think with a bit of patience, given the nature and character of the President, he will sit before television cameras and say this is what I went through," he said.
According to him, Buhari had made a significant improvement in his recovery from an undisclosed ailment.
Asked when the President will return to the country, especially as the governors said he was healthy and active, Shehu said: "As soon as his doctors certify that he is good enough to be up and about, they will release him."
It could be recalled that there have been concerns about the President's health, especially as he has not been seen in public since May 7 when he left the country for London to receive further medical attention.
An audio message from President Buhari, recorded in Hausa, for the Eid-el-Fitr celebrations led to further controversy.
A photo of Sunday's meeting with the governors released by the Presidency led to questions about why there were no videos or a video message to Nigerians. Shehu, however, said the meeting with the governors and the image had reassured Nigerians that their President had made significant progress in his recovery.
"I think it is sufficiently important to Nigerians that the President who had gone abroad to receive treatment for his health has made significant improvement," he said.
A member of the group, Coalition of Concerned Nigerians (CCN), George Turner, however, faulted the handling of the President's health, warning that it was leading to rumours and dangerous conspiracy theories.
"The thing is that we don't understand the concept of governance of democracy. The President is not a private person; the President is a public person," Turner said.
"We must be proactive. This country is so divided right now and there are so many mischievous voices that want to orchestrate and cause havoc and disharmony. And everything we can see that has potential to cause disaffection and destruction of lives and property, we tackle it."