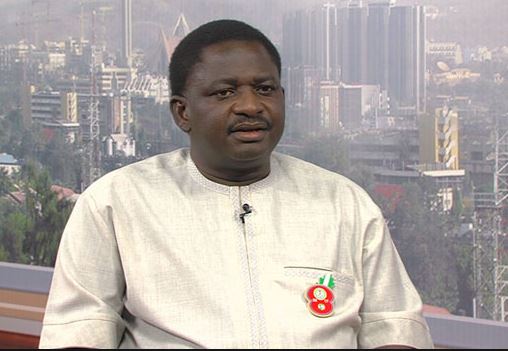 Presidential spokesman Femi Adesina has described President Muhammadu Buhari as "a reformed democrat, a pious man'' who will never move against those calling him all sorts of names in the past two years.
Adesina, in a special feature titled; "President Muhammadu Buhari and the descendants of Shimei'', released in Abuja on Saturday, described such people who were bent on tarnishing the good image of President Buhari as "descendants of Shimei''.
According to the presidential aide, the descendants of Shimei are the evil wishers, the hate monger, and those who spend their days conjecturing tragedy for leadership.
"President Buhari has tolerated people who have called him all sorts of names in the past two years. If he didn't move against them directly, he could have allowed many Abishais to move against them, and take off their heads."
"But not our President, a reformed democrat, a pious man, who has resolved to leave the people suffused by hatred unto God.''
Adesina attributed the "devilish'' activities of the Nigerian Shimei to the outcome of the 2015 presidential election.
He maintained that, "the All Progressives Congress (APC), inspired by Muhammadu Buhari, halted the 60-year pipe dream of PDP at the polls in 2015. Has the latter forgotten? No, they won't forget till forever.
"But so much is the animus, the antipathy towards the President that they wish him dead. While millions of Nigerians are praying, some elements are rejoicing, and imagining evil.
"But they forget: man is not God, and Jehovah always has the final say. The descendants of Shimei need to learn vital lessons from their forebear.''
The presidential aide further narrated a historical but spiritual episode to further buttress his points.
"You don't kick a man that is down, goes a saying, but Shimei not only cursed David, he also threw dust and stones at him. It was a show of shame.
"David had succeeded Saul as king of Israel. And Shimei was from the family of Saul (read, People's Democratic Party, PDP). Shimei hadn't forgotten the bloody nose the family of Saul got, when the kingship was taken away from them, and given to David.
"So when the latter got into a time of travail, no pity at all from people still smarting from bloody noses.
"And will they get their just desserts one day? As night follows the day, they will. If not from man, they will get it from God. Their forefather, Shimei did. He reaped what he sowed,'' he said.
He further narrated: "After some time, the rebellion led by Absalom was crushed by loyal troops, and David regained the throne. As he headed back into the city, who came to meet the king, with one thousand of his relatives, pleading for mercy? Shimei.
"The Yorubas say the same mouth that the snail used to abuse the gods, is what it uses to lick the dusts of the earth. Shimei had suddenly become gentle.
"And humble, too. He fell down before David, and said:"I have sinned. Have mercy on me. Don't remember what I did against you on the day you went out of Jerusalem."
"Heh, on a certain day, some people would come to prostrate, begging for mercy, asking President Buhari to forgive and forget. What will the President do? What did David do? Abishai said again to King David:"Let me bring down the head of this man, who cursed, and threw stones at you?"
"But David said to Shimei:"Thou shall not surely die." And the king swore unto him.
"But did Shimei live happily ever after? Old sins, they say, have long shadows. Before David died, he instructed Solomon his son, who succeeded him, not to forget to deal with Shimei.
"At least, David had kept his part of the bargain not to kill Shimei.
"What did Solomon do? He restricted Shimei to Jerusalem, adding that any day he went out of the city would be his last on earth. Days, weeks, and months went by. Shimei remained gentle.
"But on a certain day, two servants belonging to him ran away to Gath, another city.
"Shimei saddled his horses, and led his men to bring back the servants. He h