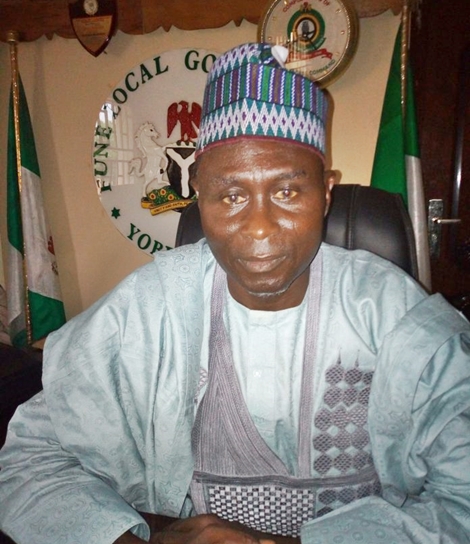 While speaking in an exclusive interview with The Independent, the Executive Chairman of Fune Local Government Area in Yobe State, Digma Maina Gana, who is ruling the Council for the seventh time, opened up on the secret of his re-elections and achievements. He also spoke on the challenges facing his Local Government Area and other issues.

Here are the excerpts from the chat:
You are now in your seventh tenure. What is the secret behind your re-elections?

Thank God. First let me say destiny, will of Allah and help of his Excellency Governor Ibrahim Gaidam. Maybe my style of leadership impressed my electorates which enabled me to continue to rule this Local Government. I had performed to the best of my ability in all the years I served. I ensured that I deliver democracy dividends in order to satisfy my people who have trusted me with their votes.
What are your achievements in this 7th tenure in office?

My recent projects are not hidden, they are physical projects available for anyone to go round and see, they are people oriented projects to benefit our community.

In the education sector, we sponsored students to further their education with scholarship. We have built so many blocks of classrooms in our Primary Schools, built so many structures in our Dispensaries, we have continued to procure Hospital equipments to our health centers.

In the area of water supply, we have drilled a number of Boreholes and maintained the existing ones via services and prompt provision of diesel and lubricant. In rural areas we have dug Cement Wells too to ease the perennial problems of water for human and animal consumption.

In the agricultural sector, we have done wonderfully, our extension workers have continued to mobilize farmers to embrace farming, we have allocated farm inputs and other services via our agric department.
You are chairing one of the largest local government area in Yobe State, talking of land mass, what do you hope to achieve before the end of your tenure?

So many things that would improve the quality of lives of my people, it is my desire to get additional rural roads in other to open up the places so that they can easily market their farm produce, I also intend to transform Fune in order to compete with other sister local governments in the Country. We will deliver quality work in all sectors of humanity. The welfare of our people is so dear to us, our concern is improved and standard living condition security and others.
In what area do you think your people will remember you one day, I mean legacies?

People of Fune would continue to remember me whenever I go based on my performance in office, I operate an open door policy, am always available for them and their suggestions . They will remember me for the projects I have done for them. If they will forget me, they won't have given me the mandate to rule them for the seventh time.