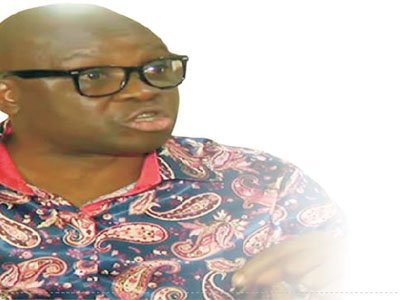 Governor Ayodele Fayose of Ekiti State has
declared that a Chieftain of the All Progressives Congress, APC, Bola Tinubu is his leader.
He, however, said he will never decamp to the
party.
The governor, while giving reason for his
declaration said Tinubu was nonpartisan in his
appointments to Yorubas.
Fayose, who is the Chairman, Peoples Democratic Party, PDP, Governors Forum made the disclosure while speaking at the 13th convocation lecture at the Benson Idahosa University in Benin, the Edo state.
According to Fayose, "I am the man to watch
in this generation. So, I am controversial
because I am doing things other men like me
cannot do. They are scared. They are afraid;
they don't have courage.
"What I am saying to you is that controversy
is necessary for democracy. We must have
our voice.
"I am not an APC member and I will never be.
But remember the fact that our leader, Asiwaju Bola Ahmed Tinubu, a courageous man in his own right, our leader in Yoruba land, forget about politics, if they give Asiwaju appointment, he will give a Yoruba man.
Whether he is in the APC does not matter.
"And I came out strongly; I defended him. I
am not defending politics. I am defending the
truth. Our politics must have where we would
stop it and say the truth as may be necessary."
The Governor charged Nigerians to watch out
for him, saying he will dare what most men of
this generation can't do.
Fayose, who also revealed the source of his
power, said he draws strength from the Joshua 9v7 and also Joshua 1:6-7 in the Bible.
He said, "Some people chose to be under the
table; they don't want to die. They are afraid.
"But remember that the Bible says that those
who want to gain their life will lose it and those that lose their life will gain it.
"My strength lies in God Almighty. If you put
me inside running water, the water will become still. If you put me the den of lions, the teeth, the claws will go inside; you can find that in the Bible too."
The governor, while quoting Joshua 1:6-7 and
nine and 17, said: "I draw my power from
those things (Bible passages). When I wake
up, I lie down in my bathroom and say.
"Lord, many are the afflictions of the righteous. But the Lord God will deliver him from them all."
Fayose had earlier declared that through God's intervention he will emerge as the next President of Nigeria.
Fayose also went ahead to reveal how he
protested his father's decision to donate the
only family car to late tele-evangelist
Archbishop Benson Idahosa.