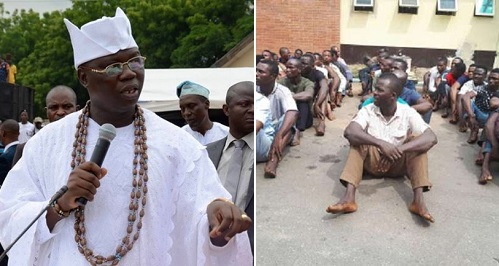 Gani Adams, the National Leader of the Oodua Peoples' Congress, has purported a claim that members of the Badoo cult are being sponsored by influential people in Lagos State.
Adams, who accused the state government of playing politics with the lives of residents, said members of the cult were usually lured through job opportunities after which they were recruited into the gang.
The OPC leader said his group refrained from intervening in the matter despite having information about the activities of the men because it didn't have the permission of the government.
He said,

"For about two and half years, our coordinators in Ijede have been giving us a lot of information about Badoo. We realised that some highly-placed personalities were involved.
He said, "They use vacancy adverts, among others, to lure would-be Badoo members and they put up some (telephone) numbers. When you call the numbers, they will call you to come to their office and they will give you money for empowerment, like N250,000.
"From what we have gathered, they normally buy the (bloodstained) handkerchiefs for N500,000, N1m or N1.5m. A common man cannot afford that money. It is being organised by some prominent people.
"The Lagos State Government plays partisan politics with the lives and property of people whereas the first duty of government, whether federal, state or local, is to make sure the lives of the citizenry are protected."