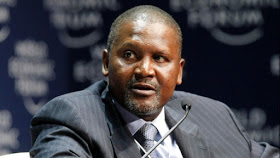 President of Dangote Group, Aliko Dangote has estimated that the country is losing about N140 billion weekly to traffic gridlocks on Apapa-Oshodi Expressway, Lagos, the access road to Nigeria's main sea ports.
Dangote who spoke to journalists in Lagos, yesterday, said: "The economy loses more than N20 billion daily and N140 billion weekly. It affects businesses across the country. All our operations in the hinterland in Ilorin, in Kano are operating at 40 per cent maximum capacity."
Commenting on his resolve to personally get involved in the Apapa Wharf road reconstruction, he said: "Because it is very embarrassing! We can't just sit and have a road like that where it is the heart of the trade of the country. More than 60 per cent of our country's import and exports come through the port and we leave it un-attended. That is why we started on our own. Flour Mills said they will join us, but now government changed the design because they want all the cables and pipes underground and to have a more robust solution."