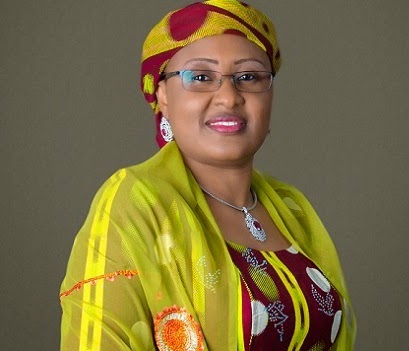 Wife of the President, Mrs. Aisha Buhari has said that his husband will soon return home to celebrate Eid-el-Kabir in Maitama Mosque, Abuja.
Recall that Hajiya Aisha left for London about five days ago, to be with the President.
She gave the update on the President's health in a message to the 23rd Annual Ramadan Lecture of Ansar-ud-deen Society of Nigeria (ADS) held in Abuja.
The First Lady, who left for London about five days ago, was represented at the lecture by her Senior Special Assistant on Administration, Dr. Hajo Sani.
"My husband is recovering very fast. And very soon, he will return to the country to resume his official duties," she said.
"I thank Nigerians for their prayers for my husband. Please, do not relent in your prayers."
The message sparked shouts of Allahu Akbar! Allahu Akbar!! Allahu Akbar!!!(God is great) by the Muslim faithful.
She added: "The President will be back very soon."
She said she was "hopeful of observing this year's Eid-el-Kabir festival at the ADS Mosque in Maitama as she had been doing even before getting into office."