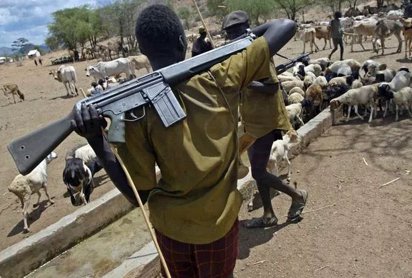 The Miyetti Allah Kautal Hore, a Fulani socio- cultural association has faulted the recently passed Anti-Open Grazing Law in Benue State, describing it as obnoxious and a recipe for anarchy.
The National President of the organisation, Alhaji Bello Abdullahi Bodejo and the National Secretary Engineer Saleh Alhassan made the declaration on Tuesday in Abuja at a news conference.
The state governor, Samuel Ortom had eight days ago assented to the bill prohibiting Open Rearing and Grazing into law.
Alhassan who read the position of the herdsmen said the Land Grazing law of 1960 was subsisting and that Governor Samuel Ortom of Benues should learn from a former Governor Jonah jang of Plateau who tried to decimate the Fulanis for eight years but failed.
"Cattle rustling and violence against Fulani herders have pervaded most states in Nigeria.
We view this as part of an economically based form of criminality and agenda perpetrated by criminal networks that are illegal and informal against out people," Alhassan said.
"We want to state here that we reject that repressive and oppressive law and will deploy all the necessary legal means as enshrined in the Nigerian Constitution to challenge it.
"We will mobilize our people to resist any attempt to enslave them through this wicked legislation even contemplated in the history of our nation," he said.
According to him, pastoralists like other citizens of the country had the right to move freely and to reside in any part of the country.
"They also have a right to own property in nay part of the country. We view this oppressive law as fundamentally going against our culture, economic interest and constitutional rights," he said.
He urged the National Assembly to live up to its responsibility as the inter-state movement of pastoralists was analogous to inter-state commerce, which is an exclusive preserve of the National Assembly under item 62 of the Exclusive Legislative list.