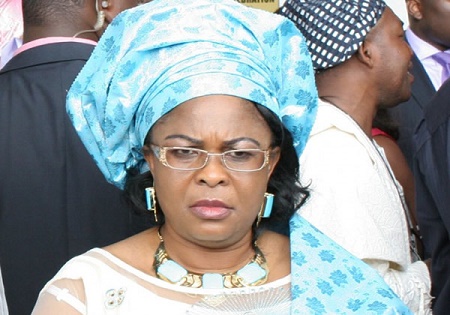 Patience Jonathan, wife of the former president Goodluck Jonathan has been caught trying to withdraw the sum of $5million from her account frozen by the anti-graft agency, Economic and Financial Crimes Commission.

According to Punch, a source within the anti-graft agency, revealed that Dame Patience Jonathan made the move to withdraaw the huge sum from her frozen account during the week.

However, the transaction couldn't go through as a Skye Bank plc official alerted EFCC officials who swung into action.

The source further revealed: "We received an alert from Skye Bank during the week that Patience attempted to withdraw $5m from her personal account titled Patience Ibifaka Jonathan which is domiciled at the bank.

"We immediately told the bank not to allow any withdrawal because a 'No Debit Order' had been placed on the account."

It would be recalled that the EFCC in September 2016, froze Patience Jonathan's personal account containing $5 million.

The agency also froze accounts of four companies - Pluto Property and Investment Company Limited; Seagate Property Development and Investment Company Limited; Trans Ocean Property and Investment Company Limited; and Globus Integrated Service Limited - containing $15,591,700 which Patience Jonathan claimed belonged to her.