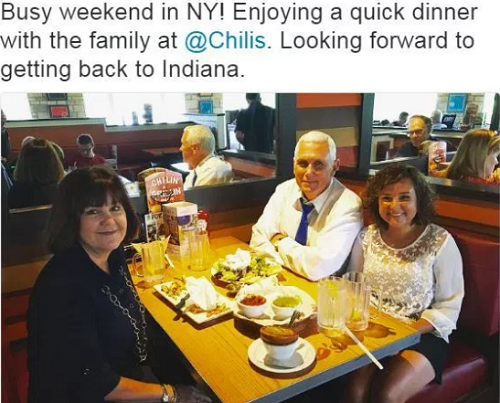 A Seemingly innocent photograph of Donald Trump's running mate enjoying a meal out with his family has sent the internet into a frenzy.
At first glance the candid snap appears to show Mike Pence, the 57-year-old Governor of Indiana, eating at Chili's in New York with his wife Karen, also 57, and daughter Charlotte.
But on a closer inspection something is wrong - very wrong.
The picture shows the trio sitting in a burgundy leather booth, positioned next to a mirror, while tucking into nachos and dips.
While Mike and Karen's reflection can be seen in the nearby mirror, Charlotte's is non-existent.
This has caused some Twitter users to question if the youngster is a vampire or even a ghost.
Taking to the social media website Sebastian Murdock commented: "Sir I don't mean to be rude but your daughter might be a vampire just sayin."
Another shocked user added: "Where is the reflection of the woman in white? Does Chili's cause people to become vampires?!"
While another eagle-eyed contributor said: "The woman has no reflection. Explain."
Jan Siegel wrote: "She was shopped in (I'm guessing) to improve his family cred. She probably doesn't speak to him in real life!"
Lool, so who can also explain what happened there. Oh dear, it's 2016 and people can SEE.