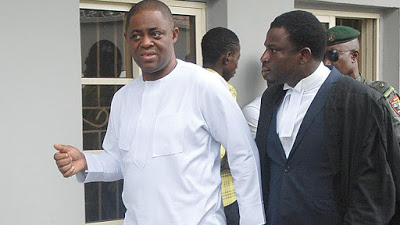 Chief Femi Fani-Kayode, has fulfilled all statutory requirements for his bail and is now awaiting the Economic and Financial Crimes Commission to free him from detention, his media adviser, Jude Ndukwe said yesterday.
"Kindly be notified that Femi Fani-Kayode has met all the conditions for his bail and the relevant documents have been duly filed and submitted at the Federal High Court in Lagos," Mr. Ndukwe said.
"We are now waiting for the EFCC to verify the documents after which he would be released," he stated.
"Despite the fact that he has been locked up for the last 62 days, he remains confident, strong, healthy and in very high spirits. He misses his family very badly, especially his five-month old son, Aragon, and he looks forward to coming home to be with his family, friends and loved ones," the statement further said.
Mr. Fani-Kayode, who had been in detention since he was first arrested on May 9, 2016, in Abuja, is facing a 17-count charge for his alleged roles in the alleged misappropriation of up to N4.9 billion in public funds at the Federal High Court, Lagos.