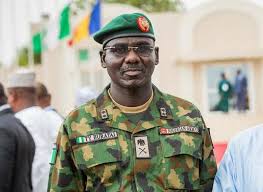 The Chief of Army Staff, Lt.-Gen. Tukur Buratai, has assured residents of North West that the army will clear the remnants of cattle rustlers and bandits terrorising their communities in few days.
He said the myriad of security challenges in the North West would be largely addressed by the end of the army's training in Bakura forest of Zamfara on Friday.
Buratai gave the assurance when he paid a courtesy call on Gov. Abdulaziz Yari of Zamfara State in Gusau on Monday.
He said the training was organised as part of activities to mark the 2016 Nigerian Army Day Celebration (NADCEL) in Gusau.
He said the army remained determined to end the scourge of insecurity across the country through real time operations and trainings.
"The 2106 Nigerian Army Day Celebration is an extended celebration that fully incorporates real time security operations amidst our routine training.
"While we celebrate, we will also address issues relating to insecurity in Zamfara state and parts of the North West in general.
"Though we are not just starting this operation, we have been on it and have recorded a number of successes against the bandits and cattle rustlers.
"I want to assure the people that at the end of our exercise this week, Zamfara state will be free of bandits and cattle rustlers.''
Buratai said the army was also using the 2016 NADCEL to boost public confidence in the army through various programmes including medical outreaches and display of the army's capabilities.
He said the army's resolve to rid the nation of criminals and divisive elements would extend to the south where kidnappers and pipeline vandals were operating.
"While we carry out this operation, we will also display our capability to assure Nigerians that the army belongs to them and they must trust the army to secure them.
"We will also go to the South-South in particular to clear out all the criminals that are operating there and others that are threatening to divide Nigeria.''
Gov. Yari, represented by his deputy, Malam Ibrahim Wakkala, expressed hope and confidence that the issue of rustlers and bandits would eventually be addressed.
He assured the army of the support and cooperation of the state government and the entire people of Zamfara in their effort to address the challenge.
The governor, however, appealed to the military hierarchy to consider the state government's proposal of extending the troops' stay in the state.
"We are confident that you will succeed here in Zamfara just like you are succeeding in the north east.
"We will give you support as a government and will mobilise the people to cooperate with you on your operation.
"We are however requesting that you extend the stay of troops in Zamfara to two years'', he said.
The army chief and his team also paid homage to Alhaji Ibrahim Bello, the Emir of Gusau, in his palace. (NAN)