A cheating woman has been exposed on Facebook after a fellow coffee shop customer overheard her conversation with her possible lover.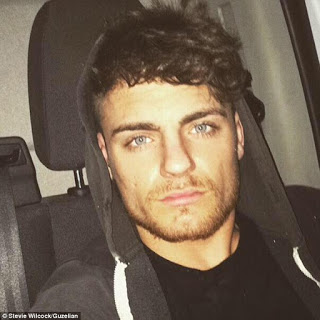 Stevie Wilcock, pictured above, was working at a building site close to a Shell petrol station in Chester on Wednesday, July 6.
The 22-year-old thermal insulation engineer was waiting to use the coffee machine inside when he heard a woman talking to another man about lying to her partner about being at a meeting all day.
The conversation soon turned to laughter with the pair even chatting about a hotel.
Feeling bad for her partner, which she named as David, Mr Wilcock took to Facebook to expose the women's lie. Read what he posted below.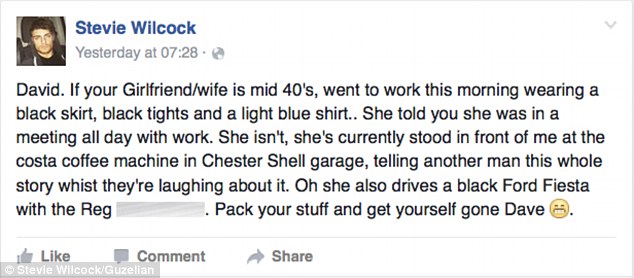 'David. If your Girlfriend/wife is mid 40's, went to work this morning wearing a black skirt, black tights and a light blue shirt. She told you she was in a meeting all day with work.
She isn't, she's currently stood in front of me at the Costa Coffee machine in Chester Shell garage, telling another man this whole story whist they're laughing about it. Oh she also drives a black Ford Fiesta with the Reg ******.So far, the post has been liked by 12,000 users and shared more than 5,000 times, leaving Mr Wilcock inundated with thousands of friend requests.
Mr Wilcock said:
'I posted it to give Dave the heads up about his partner. She was being so blatant. Telling her bit on the side that she has lied to him about where she was. There was talk of a hotel as well. It was plain as day.
'It was slightly surreal hearing them talk so open, but they clearly didn't realise this would happen.'Although many Facebook users are on David's side, some have been trying to say he is to blame.
One user wrote on the post:
'Maybe Dave is an absolute horror and she needs a little TLC. Or maybe Dave would like to try and repair the relationship. But he won't get the chance now because some' fine upstanding citizen' has decided to put Dave's private business out there for everyone to comment on.
Are you on David's side with what he did?