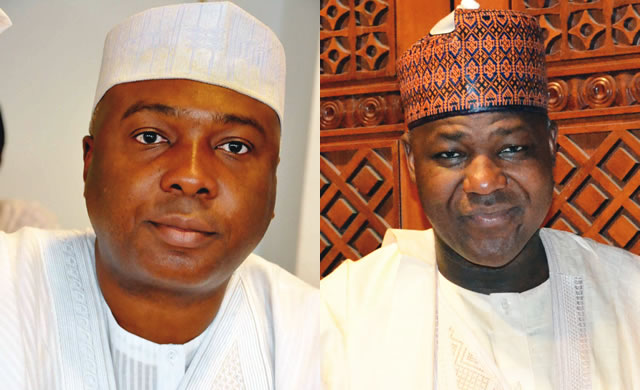 A Senior Advocate of Nigeria, Mr. Femi Falana, on Saturday called the Senate President, Bukola Saraki, and his deputy, Senator Ike Ekweremadu, to face the forgery charges preferred against them rather than politicising them.
Falana also said that, apart from the President, Vice President, governors and their deputies, who enjoy immunity under the 1999 Constitution, the legislators do not have such a protection to avoid the charges brought against them.
The human rights lawyer spoke during a lecture entitled "Limits of Executive Immunity," to mark the 60th birthday of the Secretary to the Edo State Government, Prof. Julius Ihonvbere, in Benin, the Edo State capital.
Present at the event were the state governor, Adams Oshiomhole; the Minister of Niger Delta Affairs, Pastor Usani Uguru, who was the chairman of the occasion; Speaker of the Edo State House of Assembly, Mrs. Elizabeth Ativie, and other top government officials.
Falana said, "The senate is now politicising the issue, saying it is political victimisation but not that the offence was not committed. As leaders of the National Assembly, you are supposed to be above board and that is even the more reason you must be careful."
He, however, explained that, according to the Supreme Court ruling, a governor or the leadership of the National Assembly involved in criminal cases must face the law, as there was no absolute immunity for them.
Falana stressed that the senate leadership was mandated by law to report any forgery allegation against its members to the Attorney General of the Federation but failed in their duties to invite the justice minister on the issue.
He, therefore, faulted the invitation by the leadership of the Senate to the Attorney General of the Federation, Mr. Abubakar Malami, over the forgery allegation against the Senate President and his deputy.
Falana said, "I want to remind the senate that the Attorney General of the Federation is only answerable to his boss, who is the President, and nobody else. The same thing applies to the states. So, there is no longer absolute immunity in this country and that is what is happening in Ekiti State today, about money found in a bank, and the governor is saying it is illegal to freeze his account. That is not true; any issue that is criminal in nature must be treated as such."