A prophet with a 'White Garment' church in a suburb of Lagos, identified simply as 'Woli Adesoji', has reportedly died during s*x with the wife of his close friend and an elder in the church.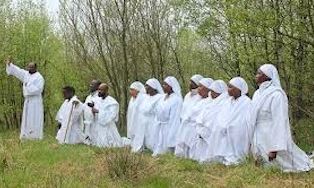 It was gathered that the 'Woli', was actually expelled from another church where he was a prophet after he was caught with a member's wife and he later opened his own church and seemed to continue in his indulgence.
Being the leader of the church, Adesoji had a free reign and slept with any woman he deemed fit, both married and single, especially those who sought for fruits of the womb or husbands.

A church member who revealed the deed to Pulse, said:
"It was a thing of shame when Prophet Adesoji, a married man with several children, died while making love to another man's wife.

And the woman is married to an elder in the church.
We all know Woli to be very randy and had been suspected by many but since he was the founder of the church, no one could confront him.It seemed the woman's husband had planted 'magun' (a Yoruba voodoo meant to prevent a woman from committing adultery), on his wife and behold, it was Woli that was caught in the trap.
He died in a very shameful way in his private room in the church. The woman has since fled the area while church members have been trying to come to terms with the ugly incident."