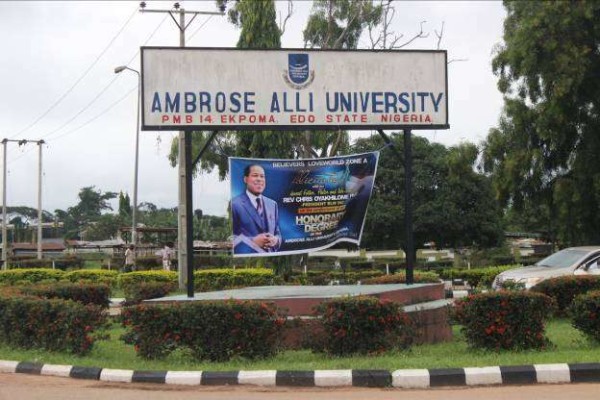 2 graduates of the Ambrose Alli University, Ekpoma, Edo State, have been convicted for the unlawful detention and assault of a former lecturer, PM News reports.
The girls, sisters Judith Ivie Okosun and Juliet Obehi Okosun, had in 2010 held hostage and stripped naked a lecturer who demanded sex for marks.
The lecturer, Peter Otubu, in the Electrical and Electronics Engineering department, had demanded that Juliet have sex with him for her to pass his course.
He had visited the girl, where she and her sister had held him hostage and filmed him naked.
They had forced him to issue a check of ₦100,000.
The court had found the girls guilty, and handed them a sentence of 2 years imprisonment.
4 others, Esther Ogbeide, Samson Ogbeide, Igbudu Samuel, Ojeabulu Eghosa Clement,and Aruya Ohis Williams, were however acquitted for a lack of evidence.
The judge, Chief Magistrate Martina Iluobe of the Ekpoma Chief Magistrate Court, criticised the lecturer for his actions, but nevertheless felt there was enough evidence to find the girls guilty of a crime. He said:
[Engr. Otubu] suffered for the sin of immorality to have gone to the room of her student which resulted in the show of shame, humiliation and torture which left his career in ruins.
After the sentencing, the counsel to the defendants, Olayowola Afolabi, pleaded with the judge to hand down a more lenient sentence. He said:
The first accused person, my lord, is about to get married. I had to plead with the husband to allow her to come to court.

My lord, the first and second accused persons were first offenders. My lord also has the option to caution the convicts in view of the circumstances. My lord is a woman who knows where the shoe is pinching us.

So, my lord, I am pleading. Literally, my lord, I am on my knees. It is a show of shame for the lecturer to come to the house of his student.
The judge then gave the option of fine to both the first and second accused, in lieu of imprisonment.
Speaking on the conviction, Otubu said:
I am okay. The principal suspect, Ivie Okosun and her sister, Juliet Obehi Okosun, have been convicted and jailed, whether they were given an option of fine or not.

To correct the erroneous impression that I was dismissed, I was never dismissed from AAU. My appointment was terminated following the video that was posted on the Internet," he said.