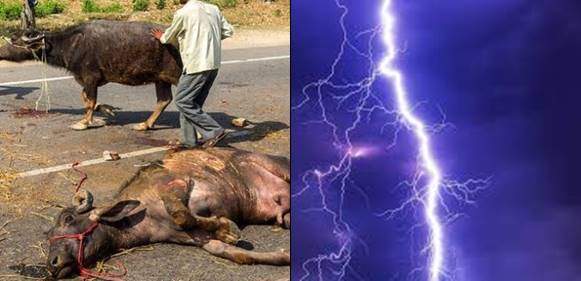 In the last couple of days, loud thunder, accompanied by a downpour was recorded in parts of Ekiti state, which led to the death of at least 23 cows in Okeowa Eluju, a farmstead in Iloro-Ekiti, Ijero Local Government Area of the state.
According NAN, Abdulkadri Kadiri, a Fulani herdsman who was the owner of the dead cows, said he was shocked and distressed by the incident, and described it as an 'act of God'.
"I went to farm after about six hours heavy downpour on Monday morning, only to discover that 23 of my cows had died. After careful observation, I found that there was no trace of bodily injuries on the dead cows. I want to believe it is an act of God since I did not offend or quarrel with anyone," he said.
Confirming the incident, the Regent of the community, Joseph Alofe, described the victim as a gentle and peace loving herder and then beckoned on government to help in reviving Kadiri's business.