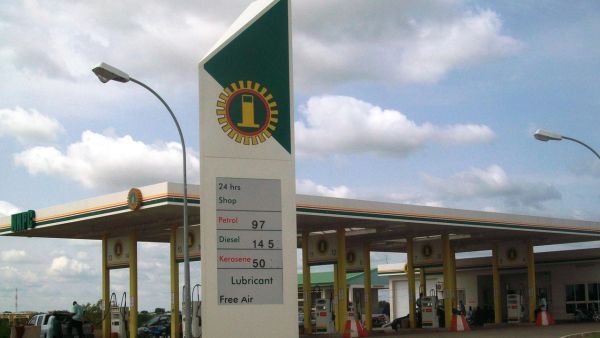 An eye witness, yesterday, narrated how a phone call by a customer caused a fire outbreak at the NNPC filling station near Building Materials Market along the Jos-Bukuru expressway on Friday.

According to Vanguard,the customer was said to have stopped by to buy petrol. NNPC The eyewitness said, "A car without number plate came into the station to buy petrol.

After buying, the driver started making a call and started the engine of the car which immediately caught fire and exploded in the station.

Passersby tried to put off the fire but the fire extinguishers there failed to work having expired.

So, a call was put across to the State Fire Service." Mr. Michael Dung, who is the Director of the State Fire Service, confirmed the incident.

His deputy, Samuel Musa who led the fire-fighting team said:-

"There was a fire outbreak; at about 3.45pm, we received a distress call about the incident at NNPC near Building Material market, opposite AirForce Girls' School.
"We mobilized our men from two stations at Masalachin Juma'a and Government House and they all turned up and were able to control the fire.


When we were there, what we saw was that they were actually selling petrol. In the process, fire erupted. What happened precisely is what we are trying to unearth but one vehicle was burnt, four service pumps affected and other vehicles that were on queue escaped the fire.


"They was so much congestion in the station, the reason being that the fuel situation is easing unlike what it used to be. If this had happened during the fuel crisis, so many vehicles would have been trapped. Our men responded on time and controlled the fire before it could be escalated." At the time of this report, renovation had commenced in the station.