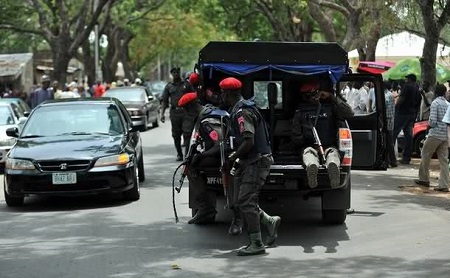 Ayodeji Bamidele, one of the robbery suspects paraded by the Ondo State Police Command on Tuesday, said he was into robbery to enable him gathered some money to boost his tailoring business.

According to Punch Metro, Ayodeji alongside with one Sunday Joseph were arrested in Ijapo area of Akure, the Ondo State capital after carrying out a robbery operation on a couple and went away with the couple's valuables.

The two men were alleged to be members of a four-man robbery gang in the town before their arrest. The police alleged that the suspects had been terrorizing some areas in Akure, carrying out different robbery operations.

Ayodeji said, " I joined the gang recently because I needed N60,000 to boost my tailoring business, I learned sewing but I don't have much money to continue with the business, so I joined the gang to enable me to raise the money."

On how the gang operated, the suspect said the leader of the gang who he identified as Kehinde has fled, saying the leader carried a gun during the operation while the three other members of the gang only took the stolen items in the vehicle.
" We have other members of the gang, Kehinde and Tope who have not been arrested, Kehinde is the leader who carried a gun and we followed him to operate, I don't carry a gun and I don't kill, that I join them it is a work of the devil," Ayodeji confessed.

Other robbery suspects paraded at the headquarters of the police command included Innocent Ikechukwu, Victor Ologun, Olaode Aboyebi and Yakubu Kayode.

Parading the suspects, the state Commissioner of Police, Mr. Gbenga Adeyanju said the suspects would soon be charged to court.
"The command is determined to rid the state any form of criminality, especially at this period of yuletide. Once again we solicit the cooperation of the people of the state in the way of prompt information at all times." Adeyanju stated.