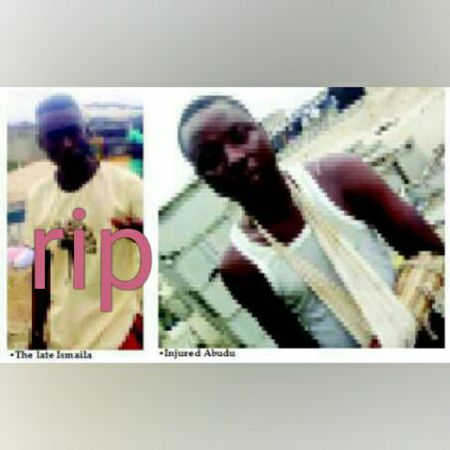 Nigerian Army personnel attached to Exercise Crocodile Smile II have been accused of killing an apprentice, Sadiq Ismaila, 20, and fleeing with his body to cover up the crime, The Nation has reported.
The sad incident occurred around 1:30pm, at Oniru Block Village, Lekki on Tuesday, where they left at least four others injured, including Paul Abudu and Bridget Afolabi.
But the Nigerian Army said the deceased was a "notorious drug peddler, armed robbery kingpin and that he first shot at the soldiers."
It was gathered that the soldiers, who came in a convoy comprising three armoured tanks and eight Hilux vans, had on Sunday stormed the neighbourhood shooting sporadically before raiding 76 persons.
The residents scampered to safety at hearing the gunshots. Of the people raided, it was learnt that about 65 were handed over to the Maroko Police Division, which transferred them to the Lagos State Taskforce on Environment.
Others were released at the army barrack where they were allegedly subjected to hard labour and made to sleep in the open field. It was also learnt that Ismaila was packing blocks in the village when the problem started. He abandoned them on hearing the gunshots.
According to a food vendor, Rosaline Adedipe, the soldiers shoot Ismaila, because he refused to stop when the soldiers ordered him to do so .

She said: "They shot him on the head. He was packing blocks when the army men started coming to his direction. People were running and Sadiq ran too. They told him to stop but he refused. He ran towards the fence and it was while he was standing by the fence that one of them told the other one: "Wait! I will kill him".

"Then, that one fired a shot on his head and Sadiq died on the spot. By that time, they had arrested four other persons. They now told the four men to carry his body into their Hilux van and they fled the area.

"This is the spot where it happened. See his blood still showing on the ground, despite that sand was used to cover it up.

"What the army people did was very wrong. Sadiq neither drank nor smoked. He was just doing his legitimate job and they killed him like that. Those behind it should be arrested. Let justice be done for Sadiq."
Narrating his ordeal, Abudu told The Nation that he was running like others when they saw the soldiers but suddenly fell.

"One of the army men followed me. When I fell, he jumped on my arm with his boot. I cried and he left me there. That was how I broke my arm. I am not a criminal. I do not smoke marijuana. I ran because they were just arresting people anyhow."
Afolabi, who sustained leg injury, said she fell while running to avoid being victim of indiscriminate arrest.
Admitting that there were some people who indulged in illegal drug abuse, Afolabi said most of them were doing legitimate business.
The Block Village Chairman, Bola Ekundayo, decried Ismaila's murder, urging President Muhammadu Buhari and Governor Akinwunmi Ambode to probe his death.
Ekundayo said the operatives should have done due diligence to arrest the criminals, instead of killing innocent people.

He said: "I know Sadiq very well. He's a young man from Oyo State. He just recently finished learning tailoring. He was packing blocks at the village to save money.

"He neither drank alcohol nor smoked. He was very gentle and respectful. Most of us here are block makers. This place used to be a ghetto where they smoked marijuana but the police have flushed most of them out.

"So, we renamed it Block Village because we are into block business. Why did they carry his body away after killing him? Is it not because they wanted to cover up their crime? When I heard of the incident, I called the Divisional Police Officer (DCO), Maroko, on phone and told him but he did not come. We are poor people here. Everyone here is afraid because no one knows when the army will come again to cause another trouble."
Condemning the incident, a lawyer and President, Yoruba Council of Youths, Aremo Hassan, wondered why the soldiers would open fire on unarmed civilians without provocation.
He vowed to get justice for Ismaila, adding that he was already compiling evidence to formerly report the incident.

"I am at the scene. I have spoken to some of the eyewitnesses and I have also seen the spot where they shot Sadiq. I have seen his blood-stained clothe. This atrocity must not go unpunished."

In a broadcast message, Hassan wrote: "Please I just got a distress call that men of the Nigerian Army code named 'Crocodile Smile 2' attached to the Epe Army Barracks, without any provocation have killed one innocent man, Mr. Sodiq Ismail, 20, from Ona Ara Local Government Area in Ibadan, Oyo State.

"The soldiers left with the deceased body in their armoured vehicles to cover up their atrocities. The incident occurred during their rampaging show of strength. Kindly alert the whole world of the evil, injustice and killings committed by them."
Contacted, spokesman for the 81 Division, Nigerian Army, Lieutenant Colonel Olaolu Daudu said: "Acting on credible information a raid was carried out at about 2pm on October 17, on the hideout of a notorious drug dealer as well as kingpin of an armed robbery gang one Ahmed Sadiq ( aka Bambi).

"The criminals opened fire on sighting troops of Crocodile Smile II to escape arrest. He was shot and died from gunshot wound. Nine other suspects were arrested and items recovered include one live cartridge and several empty cases of cartridges,
Exiplon expectorant liquid, tramadol hydrochloride tabs, kukubima powder, passion energy drink extrajoss powder and wraps of marijuana.

"Above is not a reaction, but fact which can be verified against spurious allegations. The troops from all the services, security agencies, paramilitary and state parastataIs are guided by the Rules of Engagement and Code of Conduct."