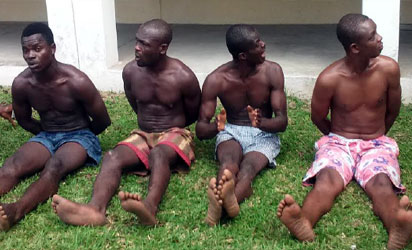 According to a Vanguard report, operatives of the Special Anti-Robbery Squad, SARS, have arrested three serving soldiers from 9 Brigade Military Headquarters, Ikeja; one dismissed Air Force personnel and their civilian accomplices for allegedly robbery.

The serving soldiers were said to be providing escort for robbery gang that specialised in stealing Solar panels and inverters.

They were arrested on September 5, when the gang allegedly invaded Okemagba Senior Secondary School, Mojoda, Epe area of Lagos.

According to Police source, the serving soldiers who were arrested in uniform while on illegal duty were handed over to the Army authorities at 9 Brigade Military Headquarters, Ikeja, for disciplinary action, where they were tried and dismissed.

The source told Vanguard that: "We arrested the soldiers while on robbery operation and handed them over to the Army authorities. They were tried and dismissed and then sent back to us for prosecution.

"They were charged to court yesterday, alongside their civilian accomplices. The soldiers were identified as ex-PTE Olalekan, ex-PTE Usman and ex-PTE Busayo, while the already dismissed Air Force personnel was identified as Odufoye.

"Other members of the gang include a 30-year-old Ani, Omorede, Emmanuel, Odufuye, Chukwu and Nwekeoma.

"The suspects went to the school with a truck, with number plates LLD-61XQ, with armed men, and vandalised 71 solar panels after they forcefully broke into the solar panel container stealing inverter batteries, which were in store.

"However, luck ran against them when security guard on night duty sighted them and quickly alerted the local vigilante group, who in turn quickly informed the Police.

"The operatives mobilised with vehicles to block the roads leading to Epe town, which led to the arrest of the three soldiers. The other suspects were later picked up in various locations following investigation.

"The kingpin of the gang, confessed to series of solar panel site vandalized along Badagry road by the gang. Other places vandalised included government schools with solar panel site like Government Secondary School Badagry, Sito tobethromies, Ajara and some MTN mask installation along Lekki Ajah, Sangotedo and Eleran Igbe along Epe road."

One Maduka who operates at Arena Shopping Complex Oshodi was alleged to be the receiver of the stolen goods and sponsoring their illicit bossiness financially.