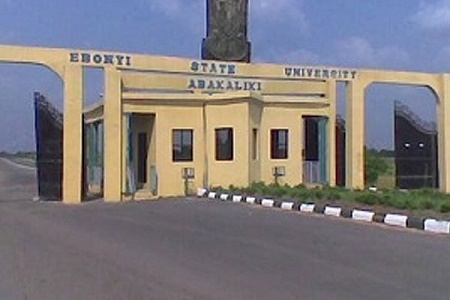 Rewind to 2014 when Miss Uloma Nkwegu (not real names) secured admission into the Ebonyi State University, Abakaliki, to study Human and International Relations. Her admission into the state-owned university came after two years of unsuccessful attempts to get into one of the federal universities in the South East region.
Having sat for the West African Senior School Certificate Examination (WASSCE) conducted by the West African Examinations Council (WAEC) in 2011, she proceeded to sit for the Joint Admissions and Matriculation Board (JAMB) examination in 2012. She elected to dedicate one year of intensive study for her JAMB to make sure she passed the examination dreaded by many students.
Trust JAMB! Uloma managed to get a little above the target cut off mark of 200 usually set by many federal universities. Not even the fairly nice post-JAMB examination result, which she passed very well, was able to jack up her cumulative grade to qualify for admission that year.
Hell-bent on getting admitted into a federal university, Uloma told Sunday Sun that she repeated the same process in 2013 but could not succeed. After the two unsuccessful attempts, she pulled together the lessons she had learnt and considered other options.
She told Sunday Sun that she decided to seek admission into a state-owned university. It was that attempt, according to her, that saw her being accepted by Ebonyi State University. Expectedly, Uloma was elated and excited by the prospects of becoming an undergraduate after two fruitless efforts.
"I saw myself flying on eagle's wings. But those imaginary wings of mine were clipped and thrown into the hard, salty waters of Ebonyi. I was practically given a new orientation" she told our reporter, sighing as she narrated.
"I had thought that having finally secured the admission, that the sky was now my next target. I had thought that the ascent to that same sky was going to be smooth at least given how difficult it was for me to get admission. But that was not the case," she lamented.
Reign of sex-for-grades
At the time, she got admission, the practice of sex-for-marks was rampant in her institution at Ebonyi State University. Particularly in her department, History and International Relations, she explained that to pass some courses, some female students either offered sex or financial gratification by paying between N10,000 and N30,000.
"Mind you, not all the lecturers were involved in this evil practice. There were a good number of very decent lecturers there but you know in every 12, there is always a Judas," she clarified.
"The strange thing is that it is not only the female students that suffer this; even the guys too. You can't imagine it. Take for instance, the case of the lecturer who was suspended on the allegation of engaging the terrible practice of sex-for-marks. His case would give you an insight of how bad it has become here," she explained.
Prodded to explain how the suspended lecturer was unmasked, her response was negative. "I don't know. Don't ask me questions on that please," she said.
Sunday Sun investigations revealed that Uloma is not alone in this predicament. Many students who interacted with our reporter told similar stories. They raised the alarm over the increasing spate of sexual harassment and exploitation meted out to them by some lecturers in the institution.
Speaking on condition of anonymity, they told Sunday Sun, for fear of victimization lamented that some lecturers in the varsity habitually demand sex from the female students and in some cases financial gratification before they could pass their courses. They cited the case of the male lecturer in the Department of History and International Relations of the institution, (names withheld by us), who was suspended by the management over alleged sexual misconduct with female students and other unethical practices.
Although, the story of how the said lecturer was caught was not clear as the members of the university declined to narrate it, the management of the institution however confirmed it. In fact, it disclosed that a male lecturer had also been sacked over the same crime of sexual exploitation.
For the beautiful, curvy female students in that department, Sunday Sun learnt, the fear of the suspended lecturer was literally the beginning of wisdom.
"Once you're beautiful in his sight, he'd devise a means of getting your back to his bed. And you would double his chances of success if you're not brilliant enough to pass his course," a female student said.
"See! This is not peculiar to this department, it's just widespread in this university; quite widespread," she added.
The students lamented that the ugly trend was rapidly increasing in the institution. For them, it was now a "normal thing among students."
However, since the story of the lecturer's suspension was broken, there has been widespread joy in the university community. In fact, some students expressed their joy on various social media platforms. This was even as some members of the university's alumni told stories of their bitter experience with the suspended lecturer.
One of them, Sylvia Ibiam, an alumnus of the institution who graduated from the Department of History and International Relations, in posting on Facebook alleged that the embattled lecturer had demanded sex from her while she was in that department.
She wrote: "If you (I) start now to say the things this fool did to me because I refused to sleep with him even after I gave him plenty money and gifts, yet he kept on frustrating me.
"I never knew I would graduate without carryover because of this idiot called (names withheld). He even went as far as hiding my project so that I wouldn't defend. I don't really know what the Senate is waiting for, even with all my evidence, he is still yet to be sacked. But I swear, if he remains a lecturer in that department, I will know that there is no God," she said.
Another alumnus of the varsity, Chinenye Chike, wrote on her Facebook wall: "It is the cry of the victimized innocent that is working against him. I had an extra year because I couldn't give him 10k (N10,000).
"I carried two months pregnancy to face EBSU panel because of him; carried my baby at two months and two weeks to rewrite his useless course on Major World Revolution. He made me borrow extra five courses; and exposed my innocent child to Ebonyi harsh weather and hard water.
"I got back to Lagos and started treating her for cough, catarrh, and some stupid rashes she caught over there. I see God's hand in this. No evil man will go unpunished. Nemesis is at work!" she concluded.
In the same vein, Okpe Thelma, went comical in his Facebook post. He told a story of how the lecturer made futile effort to snatch his girlfriend. On his wall, he wrote thus: "He intentionally failed my girlfriend Ezinne just because he felt Ezinne was a stumbling block for him to reach me. I can see that the God of Ezinne my friend is working against him..." The complaints were endless.
When contacted on the telephone, the Vice Chancellor, VC, of the university, Prof. Francis Idike, confirmed the incident. He also confirmed that the menace of sex-for-marks was rampant in the institution but said that his administration was making spirited efforts to sanitize the system.
He disclosed that the university's Governing Council recently sacked a female lecturer over the same crime. The lecturer according to him was before the termination of her appointment, teaching in the Faculty of Education.
"I know that there is a case involving this particular young man. I also know that by Friday the first report on the young man from the (disciplinary) committee came to me. I also know that I am currently studying the report at the end of which I will send it to the management for decision. The lecturer is on suspension.
"From the management, depending on their decision, it may go to the Governing Council. It is only after going to Council that a decision would be taken," he explained.
Asked about the number of cases on his table, the VC said: "I don't have the total number offhand, but I know there are so many of it. In fact, there was one we just decided last week based on sex-for-grade.
"The appointment of a female lecturer was terminated. It happened in the Faculty of Education. The Council took a final decision on the recommendation of the committee. And that matter has already been written and it is posted on our website. I mean, there are so many of them; quite a good number of them."
Responding to the clamour by students and alumni of the institution for the suspended lecturer to be sacked, the VC said that due process must necessarily be observed in dealing with each specific case.
"The lecturer is on suspension. How can you sack somebody without (going through) stages? The (disciplinary) committee has completed its assignment and submitted it to the Vice-Chancellor. I am studying it after which I will send it to the management.
"So many people have been calling me and saying that they saw it on Facebook that decision has been taken, this and that. I don't know where these people actually get this information. I don't know how to use Facebook and WhatsApp," he said.

Culled from The SUN