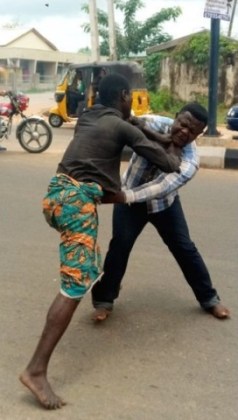 A Kogi State Pastor who insisted on delivering a mentally challenged man was given the beating of his life in the state. The fight happened in the afternoon while people watched the shocking scenario.

According to an eyewitness report, the pastor is reportedly 'fond of arranging with people to pretend they are mad, and then claiming he healed them after praying for them.'

However, things took a dramatic turn when he tried to use his alleged powers on a real mad man.

Writing on Instagram, @official_ceo_brannation01 wrote:

"A mad man and a pastor fighting this afternoon..the pastor insisted on delivering the mad man and it resulted to serious beating from the mad man.. ? pastors and wetin no concern them..according to witnesses.the pastor is fond of arranging with ppl to pretend to be mad and he will now claim healing them.. Today was a wrong day for him..?"