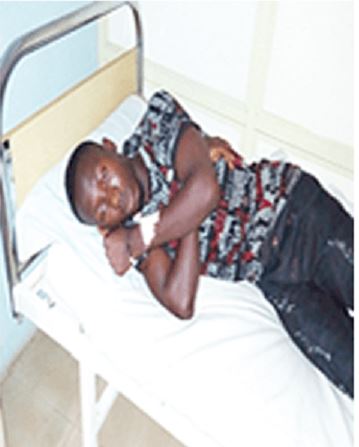 A young man, Chime Chinedu Afamefuna, 25 has been saved from the clutches of death after he drank a poisonous concoction suspected to be rat poison in a bid to commit suicide. He is said to have committed the act following instructions from a cult group he belonged.

According to NewTelegraphChime drank the rat poison, and was at the throes of death when he was rescued. The incident took place in a classroom at Uwani Boys Secondary School, Enugu.

An eyewitness and a member of Enugu South division of Enugu State Command of the Nigerian Legion Corps of Commissionaires, Ekoh-Clement O.I., who along with his men stumbled on Chime and alerted Uwani police division. Timely intervention of the policemen, who rushed to the scene of the incident, saved the situation as they rushed unconscious Chime to the police hospital Enugu where he was revived.

The eyewitness, Ekoh-Clement, who is the Divisional Officer of Enugu South Division of Nigerian Legion Corps of Commissionaires revealed that his men had on August 12, gathered at Uwani Boys Secondary School premises where they use as their temporal site for their weekly training/parade.

"After the field walkout and parade, they retired to one of the classrooms for briefing only to discover a young man whose name was later gathered as Chime Chinedu Afamefuna who left a suicide note, drank a poisonous substance which was believed to be an insecticide, vomited all over the classroom and was sitting in the pool of his vomit. "The officers quickly perused the suicide note and some men were sent to an address that was left on the note where a supposed relation by name Gloria Aneke can be found while the divisional officer alongside with two other officers rushed to Uwani Police Station.
"The DPO was not in the office so the officers met the DCO (Sp Okeke Chinedu) who responded quickly and sent some of his officers to join the legionaires who came to report the incident. The young man was later taken to the police command clinic where his life was saved," he said.

The source stated that when the police invited Aneke, the woman whose name was on the suicide note, it was discovered that she is Afamefuna's auntie and also sponsored Afamefuna's secondary school education before he ran away from home and joined street boys.

It was gathered that Afamefuna's mother died shortly after giving birth to his immediate younger brother. Aneke said since the sad incident, she assumed the responsibility of taking care of Afamefuna and his younger brother.

The auntie was said to have expressed frustrations at Afamefuna's delinquent behaviours, a development that had seen him in and out of police cells before he finally eloped from home and started living street life.

Afamefuna's auntie, who is not disposed to speaking with the media, was said to have initially denied the young man, before admitting knowing him after much persuasion. She was said to have however expressed willingness to keep her doors open if the young man would turn a new leaf and return home.

Ekoh-Clement revealed that based on what they observed, it seems street life possibly exposed Afamefuna to cultism. And that perhaps he couldn't meet up with cult demands hence the decision to take his life. He said that the young man requires serious counselling and rehabilitation.
"The way he was dressed doesn't suggest somebody finding the world very difficult, because he was wearing good dresses," he said. He added that the last phrase of his sui-cide note, "IN THE NAME OF FUTA-JALUN my mother high temple", might have something to do with either mysticism or cultism.

The police source on his part said that Afamefuna was initially chained to the hospital bed to prevent him from running away but had been discharged from police clinic some days after he stabilised a bit. According to him, he was mandated to keep regular appointments as an out-patient while the police would continue to until he was stable enough to give additional information on why he wanted to commit suicide.

He said that whatever made him to contemplate suicide could be deep and complicated following his refusal to open up despite entreaties made to him to do so. He said that in the final analysis, a decision would be taken whether to charge him to court or consider other options. He said that police were shouldering the financial burden of Afamefuna's hospitalisation and treatment.