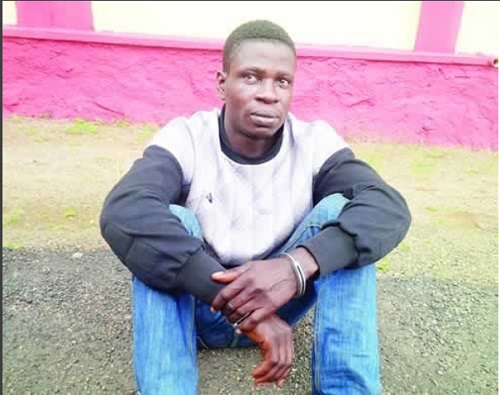 A 33-year old, Azeez Kilani, has killed a farm owner, David Adima who caught him allegedly stealing cassava tubers from his farm at Sojulu village via Ibogun in Ifo Local Government Area of the state of Ogun State.

Kilani was said to have murdered the victim who met him on his farmland shortly after the suspect had uprooted one sack of cassava tuber and was about taking it away. He was paraded alongside 42 other suspects on Monday by the Commissioner of Police, Ahmed Iliyasu at the State Headquarters, Eleweran, Abeokuta.

Iliyasu said the cassava thief decided to murder the deceased to cover up his track "having realised he is well known." The suspect denied hacking the deceased to death.

Kilani explained that he wrestled with the victim who was using his cutlass to beat him, and in the process, the cutlass hit the deceased on the neck while he fainted and died afterwards.

The suspect said he gave Adima, who hailed from Benue, the piece of land upon which he planted the cassava.
"He met me on his farm uprooting his cassava, but I begged him not to report me to Village Head (Baale). He was armed with cutlass and he deployed the cutlass to beat me and I resisted. I dragged the cutlass with him and in the process, the cutlass hit him on the neck and he fainted. He later died on the farmland. The incident happened on August 13", Kilani said.

Among the suspects was one Paul Alanla who was arrested for human trafficking involving six children whom he brought from Cross River State "for child labour" in Ogun State.

Others are, 38 suspected kidnappers allegedly terrorising Lagos-Ibadan express road alongside one Zubairu Umaru who led the gang and supplied them with hard drugs.

The Command also rescued Isiak Muhammed and Idris Muhammed from kidnappers after "one hour" gun battle between police and the abductors. Some of the abductors, according to the CP, escaped with gunshot injury and therefore he urged hospitals to report any patient with gunshot injury to the police.

Iliyasu said the arrests were made following a tactical deployment of his men for mop up operation against criminal activities in the state.
"In conclusion, I want reiterate the commitment and determination of the command in providing adequate security at all time and to assure the good people of Ogun State that, hoodlums and any other faceless criminal gangs or mischief makers will never have rest of mind because the battle will henceforth be taken to their door step. Most especially as the Sallah Celebration and ember months is fast approaching," the CP said.