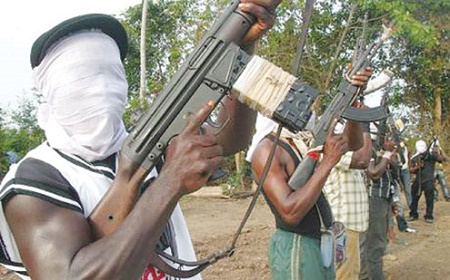 The menace of kidnapping for ransom in the country took a more frightening twist when 31-year-old Chibuike Okoroafor, brought a new dimension to the crime.
Okoroafor resorted to raise money for the burial of his late father and uncle, by going out with his gang to kidnap 10 victims in Imo and Anambra states.
The first abductees were 30-year-old Chigozie Ekwegbara and his two sisters, who were kidnapped about 8.00pm at Ornage Fastfood, opposite Asutel, Uli, Ihiala Local Government Area, Anambra State. They were whisked away in a Toyota Highlander SUV of Chigozie and held for five days in Azara Obiato in Mbaitoli Local Government Area, Imo State, until their family paid N2 million to secure their freedom.
As Sunday Sun learnt from the Anambra State Commissioner of Police, Garba Baba Umar, Chigozie reported the incident after regaining freedom. Acting on the report, the Special Anti-Robbery Squad led by Supol Sunday Ikpe, launched a manhunt of the kidnappers and eventually tracked down Okoroafor and two other members of the gang, namely, Azubuike Nwachukwu, 41, from Okpa Umuobo in Osisioma LGA, Abia State and Ikechukwu Emeka Chima, 30, from Amachara village in Umuahia, Abia State and arrested them on August 10 at Orogwe along the Owerri-Onitsha road, Imo state.
During interrogation, Umar said that Okoroafor disclosed that he had twice postponed the burial of his father and uncle after learning that the police were on his trail. Ultimately he never attended the uncles' burial held in July 2017. He only sent money to his relations for the burial.
Recalling the traumatic experience, Chigozie said: "I was with my two sisters at Orange Fast Food Opposite Asutel Uli, when they kidnapped us. They took us to their hideout and demanded over N10 million but my relatives paid N2 Million after five days; we were released at Azara Obiata in Mbaitola L.G.A of Imo State.
"On May 5, 2017, I reported to the SARS and within two months, on August 10, 2017, two members of the of gang were arrested. I was able to identify them. I want them to return my Highlander SUV and my gold chain. I am grateful to God and want to thank the Commissioner of Police, Mr. Garba Umar and the SARS operatives for the brilliant work they did."
The SARS Commander, Supol Sunday Ikpe , added that his team is still trying to recover the SUV, which the gang sold in Aba to a car snatching syndicate.
When he spoke with Sunday Sun, Okoroafor said: "I have kidnapped over 10 victims and used the money I collected from their relatives to bury my late father. We demanded N10 million because I needed the money to also bury my uncle in Abia state. I was involved in bank robberies in Imo State. I was declared wanted by the state police command, so I relocated to Anambra State.

Okoroafor who hails from Azara Obiato further revealed that he was wearing Chigozie's gold chain when he was arrested.