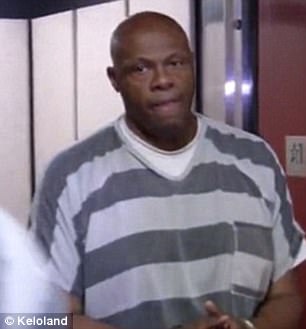 A 45-year-old South Dakota man idenified as Tony Deval Ledbetter, has pleaded guilty Friday to eight counts of domestic assault after he cut off his girlfriend's nipples with a pair of scissors.
According to a report by Dailymail , the suspect and his companion were reportedly having a dispute about the state of their relationship the evening of October 11, 2016, when police say Lebnetter 'punched and slammed' the woman's head to the ground.
Ledbetter attempted to stop her from screaming and alarming neighbors of the matter by cutting off her airway with his forearm. When that was unsuccessful, he took a blanket, stuffed it in the her mouth and sat on top of her, then proceeded to cut off her nipples with the scissors.
The victim was able to escape the scene. When she departed the house, Ledbetter phoned 911, police spokesman Sam Clemens said.
Ledbetter claimed during Friday's court hearing the violent act was one of 'self-defense' amidst the two-sided fiery feud. The woman, who was pregnant at the time of the assault, is said to be doing fine and the baby healthy.
Ledbetter faces a maximum sentence of 15 years for each count he was charged, and the state agreed to ask for no more than 30 years.
He will receive his sentence come November.