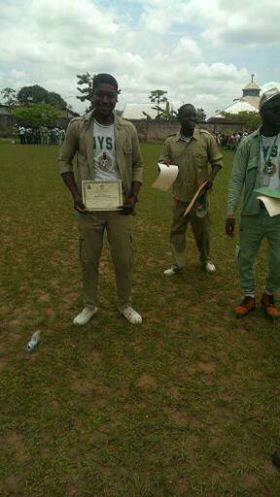 A young handsome corper has died after he was trapped in a building that collapsed in Owerri, Imo state.
One of the two National Youth Service Corps members who were in a coma after being trapped for eight hours in a collapsed building in Owerri, Imo State, has died.
Before his death, the victim identified as Chinedu Isiogugu hailed from Anambra State, died of cardiac arrest around 3am on Monday after a team of medical experts carried out a successful surgery on his two damaged legs.
The death of 26-year-old Isiogugu brings the casualty figure to five after two babies and two adults were confirmed dead on Sunday.
A friend of the victim, Envoh Ablaba Desmond writing on Facebook said: "A disheartening news i received now made me pale. A corp Member whom during my service year at Owerri, the same CDS group, he was the PRO, while I the CDS president of Charity Group CDS.
"He decided to remain there after service. That the up stairs building he was staying collapse and he died! We even talked 4 days ago! Hmmm, wat a loss.
Rest in peace Chinedu! We shall miss u."